Major milestone for UK legal services
From today UK consumers and businesses will find solicitors' firms more competitive, more accessible and more efficient following reforms.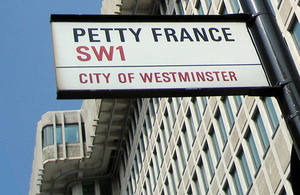 The reforms mean the Solicitors Regulation Authority (SRA) is being added to the licensing authorities for the new Alternative Business Structures (ABSs).
ABSs remove existing restrictions on legal firms allowing them to offer more competitive services to customers by joining up with other businesses, such as high street shops, banks and supermarkets, to offer legal services alongside other products.
Solicitors who want to take advantage of the new systems can apply to the Solicitors Regulation Authority to be licensed to work as an ABS, providing choice for consumers in how and where they access legal services.
Justice Minister Jonathan Djanogly said:
'The addition of the Solicitors Regulation Authority marks another major milestone for UK legal services and the future of Alternative Business Structures.
'Customers will find legal services more accessible, providing a much more competitive and efficient service.'
ABSs started operating in October for conveyancing lawyers, licensed by the Council for Licensed Conveyancers. Today's addition of the much-larger SRA means thousands more firms will be able to take advantage of the new systems.
Published 3 January 2012