Press release
Major investment for roads in Gloucestershire
Highways England has a major programme of road investment planned in Gloucestershire for the coming year, with the county benefiting from over £35 million of investment to the road network.
This news article was withdrawn on
This press release is no longer current.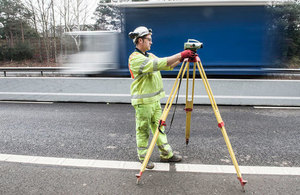 The focus of significant work will be on the M5 between junctions 11 and 13. However, there will also be an important scheme taking place at Walham Viaduct on the A40, as well as a wide range of smaller improvements throughout the county.
Roads Minister Andrew Jones said:
As part of our long-term economic plan we're committed to the biggest investment in roads in a generation.

It's vital that we use our transport infrastructure to create jobs and make it easier for people to see their family and friends. That's why we've put £35 million into Gloucestershire's roads – to ease congestion and improve journey times across the south west region.
Highways England South West Regional Director, Andrew Page-Dove, said:
Our programme is already reaping great benefits in Gloucestershire with the completion of our pinch point scheme at Over Roundabout, where road users tell us that our work to reduce congestion is significantly cutting their journey times.

We are keen to build on this good work and that is why we are investing a further £35 million in the county's strategic roads over the next year.
Highways England's maintenance investment includes a £15million programme of repairs on bridges over the M5 at junctions 11 and 13, which will ensure they stay safe and reliable for many years to come. By the end of March 2016, £12million will also be spent on resurfacing 114 lane miles in Gloucestershire in addition to the 144 lane miles already delivered in 2014 -15.
On the A40 at Walham Viaduct, a programme of works to repair the joints and undertake waterproofing and resurfacing has also been scheduled. This work will maintain the integrity of the structure avoiding more costly and disruptive repairs in the future.
Andrew Page-Dove added:
These schemes, along with many other smaller works we'll be undertaking, represent a major investment in Gloucestershire's roads infrastructure.

We do understand that, while this will have a positive benefit for local roads and economy, there will also be disruption to drivers during any roadworks.

We are doing everything we can to ensure the work takes place in a coordinated way and that schemes are delivered in a manner that minimises their impact, and we would like to thank road users for their patience and apologise for any inconvenience while we carry out our work.
Work on the A40 at Walham Viaduct is scheduled to start at the end of June and will continue until autumn. We have designed this traffic management to minimise delays to road users and we do not expect the works to significantly increase journey times during the day. Full details on the scheme will be publicised later in the month
We will also be undertaking major bridge and highway maintenance works at and around junctions 11 (Stroud) and 13 (Gloucester) of the M5 motorway.
The work includes highway resurfacing, replacing damaged waterproofing layers, refurbishment of bridge decks, structural repairs to bridge bearings and replacing bridge piers and foundations.
In order to deliver a large volume of work as efficiently as possible and minimise disruption, the maintenance will be delivered in two clusters, one for each junction.
At junction 13, work is scheduled to begin in August 2015 and end in November 2016. At junction 11, work is scheduled to begin at the beginning of August 2015 and finish in January 2018.
Other work in Gloucestershire planned for this year includes a scheme between junctions 12 and 13, where we will install additional roadside signs to improve driver information. This will considerably enhance our ability to relay information to drivers and keep them informed about traffic conditions ahead. We will also improve signage on the A40.
Full details of all our schemes will be publicised ahead of work starting.
During any roadworks, Highways England advises drivers to plan their journey and allow more time. Drivers can get up-to-the-minute travel information by phoning the Highways England customer contact centre on 0300 123 5000 or by accessing the website. Drivers can also download Highways England's iPhone app or follow regional updates via Twitter at @HighwaysSWEST.
Further information regarding current and planned roadworks in the South West region plus neighbouring regions, including the programme, can be found on the Highways England website.
General enquiries
Members of the public should contact the Highways England customer contact centre on 0300 123 5000.
Media enquiries
Journalists should contact the Highways England press office on 0844 693 1448 and use the menu to speak to the most appropriate press officer.
Published 5 June 2015