World news story
Major conference to promote Moroccan-British economic relations
A major conference was organised at Mansion House, bringing together political and business leaders from both Morocco and the UK.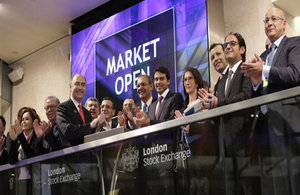 The Embassy of the Kingdom of Morocco and the Moroccan British Business Leaders Forum organised on 22 October at Mansion House, London a major Moroccan and British investment conference. The conference, entitled Morocco, Africa's Business Gateway, brought together political and business leaders from both countries.
The UK is determined to step up the economic relationship with Morocco. British companies are good candidates for 'win-win' partnerships with Morocco. British business has leading expertise and innovation in sectors where Morocco has particular interest, including energy, financial services and education.
UK and Morocco are both open, outward-facing countries who understand the mutual benefits of trade. As Morocco develops Casa Finance City as a regional hub, it is natural to develop partnerships with the one of the world's foremost international financial hubs and Europe's leading centre of Islamic Finance. There are strong synergies between UK traditional links to Anglophone Africa through the Commonwealth, and Moroccan links to Francophone Africa, which offer wider advantages to business partnership between the UK and Morocco.
Published 23 October 2014