Press release
Major improvements for the M27 to open for August Bank Holiday
Road users around Southampton wanting to get away for the August Bank Holiday will benefit from the completion of work on 2 major improvements on the M27.
This news article was withdrawn on
This document is no longer current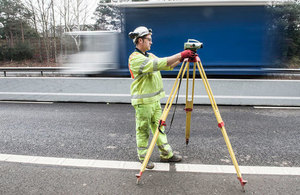 The work to junctions 3 and 5, which represents a £12.5m investment, will bring a number of benefits including reduced congestion, improved journey times, improved flow across the junction and improved safety, and will act as a boost to the local economy.
The junction upgrades are part of the Government's £317 million pinch point programme on motorways and major trunk roads to be delivered by 2015. They are part of the biggest programme of road enhancements since the 1970s and will reduce congestion, increase safety and improve journey times.
Roads Minister Andrew Jones said:
I am delighted that our investment in the M27 will make journeys better and less congested for working people. The scheme will also benefit the region and country more widely by reducing congestion for businesses to and from Southampton Port, an important hub for global trade.
Highways England Asset Manager Philip Sheppard said:
It's fitting that on the 40th anniversary of the opening of the first stretches of the M27, we are able to increase capacity on these two busy junctions. This will allow the roundabouts to work more efficiently to reduce congestion and improve journey times. The widened approaches and new traffic signals will improve the flow of traffic for the thousands of drivers at both junctions.
Specific work undertaken at junction 3 included: widening of the M27 westbound exit slip-road to 3 lanes; widening of the M271 northbound and southbound approaches to the interchange to 3 lanes; the removal of the eastern overbridge hard shoulder to allow three lanes; and full signalisation of the interchange.
Drivers using junction 5 will benefit from the widening of the M27 eastbound exit slip road, Stoneham Way, the A335 Wide Lane and sections of the roundabout to 3 lanes, the construction of a segregated left turn lane from A335 Wide Lane onto the eastbound M27 entry slip-road and the installation of new traffic signals on the northern section of the roundabout.
General enquiries
Members of the public should contact the Highways England customer contact centre on 0300 123 5000.
Media enquiries
Journalists should contact the Highways England press office on 0844 693 1448 and use the menu to speak to the most appropriate press officer.
Published 20 August 2015