Major flooding exercise to test emergency response in England and Wales
Exercise Watermark will trial responses to a range of scenarios which could occur during a flood emergency.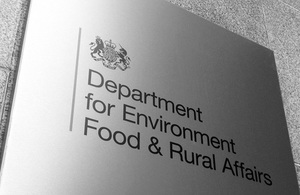 A large-scale emergency flood exercise will take place across England and Wales to test national and regional responses to severe flooding from rivers, the sea, reservoirs, groundwater and surface water.
Exercise Watermark will bring together government bodies, big business, and local communities to trial responses to a range of scenarios which could occur during a flood emergency.
Environment Secretary Caroline Spelman used a visit to the Flood Forecasting Centre in Farringdon today to announce plans for the exercise.
Mrs. Spelman said:
"Climate change means that flooding will be unavoidable in the future so we must take steps now to analyse the risk and plan ahead. The Flood Forecasting Centre is vital in providing the evidence, but we must ensure that we act on it.
"Exercise Watermark will be a real test of our ability to deal with a range of flooding issues such as burst riverbanks, surface water flooding and reservoir failure. This is just one example of the important work that Defra and its agencies are doing to help local communities improve their resilience in a 'big society' approach to flooding."
Beginning with a pilot event in November 2010, Exercise Watermark will then go live across England and Wales from 4-11 March 2011. More than 3,500 emergency responders and numerous community groups have already signed up to the country's largest national multi-agency flooding exercise. 
Organisations that will be taking part include 31 Local Resilience Forums, hospitals, the Ministry of Defence, Network Rail and the Flood Forecasting Centre. Companies including EDF Energy and the Bank of England have all signed up to test their business continuity arrangements as part of the exercise.
Lord Chris Smith, Environment Agency Chairman, said:
"Exercise Watermark will test all aspects of severe flooding across England and Wales, making it one of the biggest ever emergency exercises. The effects of flooding can be devastating so it is essential that we are all prepared to deal with flood risk.
"We are encouraged by the number and range of people and organisations that are already taking part, including businesses and community groups, and would urge others to sign up by visiting www.exercisewatermark.co.uk."
In addition to the central national exercise, local exercises and activities will take place simultaneously all over England and Wales, involving local people, schools and other community groups. For example, an area of Sutton-on-Sea will be evacuated with evacuees being transported to a processing centre for an overnight stay before returning to their homes.
Welsh Assembly Government Environment Minister, Jane Davidson said:
"Flooding and coastal erosion are two of the most visible consequences of the changes that our climate is experiencing.  In the coming years we will see rising sea levels, increases in the intensity and amount of rainfall and, inevitably, more frequent flooding.
"In Wales we are currently consulting on a national strategy to reduce the risks we face and the consequences of flooding and coastal erosion.  However, exercises like Watermark provide vital experience for those involved in the emergency services to test their resilience during difficult times."
Notes 
Exercise Watermark is an emergency flooding exercise led by Defra, along with the Welsh Assembly Government, and delivered by the Environment Agency with the support of the Civil Contingencies Secretariat.
The setting up of a national flood exercise was one of the key recommendations of Sir Michael Pitt's independent review of the 2007 floods.
For more information or to sign up visit www.exercisewatermark.co.uk.
Published 29 September 2010