Press release
Major economic boost as Wates is chosen for secure college design and build
Justice Secretary Chris Grayling announces the preferred bidder to design and build the pioneering facility.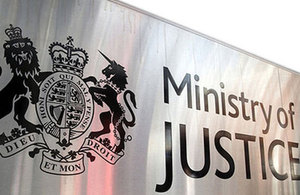 The first new secure college to be built in England and Wales will create dozens of jobs and be a major boost to local economic growth, Justice Secretary Chris Grayling said today.
The college in Leicestershire will put education at the heart of youth custody - doubling the provision compared with existing young offenders institutions (YOIs). The secure college will equip young offenders with the skills, qualifications and self-discipline they need to build a life free from crime and become productive, hardworking members of the community.
The selected bidder - UK construction company Wates - will create new jobs, apprenticeships and school work placements during construction.
Justice Secretary Chris Grayling said:
The development of a secure college is a pioneering approach to tackling the reoffending rates of young people, putting education at the heart of custody. This will give them a far better chance of getting out of the criminal justice system, and will mean much better value for money than just continuing to lock up the same young people time and again.

It's right that young offenders should face appropriate punishment, including custody for the most serious or persistent offences. But the new secure college will be a step change from the traditional environment of bars on windows. It will help in our fight to tackle the root cause of offending and give young offenders the skills and self-discipline they need to gain employment or training upon release.

This project will bring major benefits to the economy and indeed to the local community in the long-term.
As part of the construction process, Wates has committed to ensuring 75% of all sub-contractor appointments will be to local companies within 50 miles of the secure college, while 70% of all appointments will be to small and medium enterprises, stimulating local growth and providing an obvious economic boost to the East Midlands.
Alongside the impact on local companies, Wates has committed to creating 32 apprenticeships and 30 new jobs during the construction phase, as well as 24 work placements for local schoolchildren. The creation of jobs and getting people into employment are central to building a stronger, more competitive economy.
The secure college will be built on land next to HM YOI Glen Parva, an establishment for young adult offenders.
Notes to editors
The secure college will be purpose-built and designed around a fully-equipped education facility, and will have living units which are designed specifically for the different groups of young people accommodated there and to ensure safety. Every young person will have an Individual Learning Plan that they will be expected to achieve while in custody and which will continue after release in the community. This plan will ensure that on leaving custody local providers can continue the programme of work started in the secure college.
Currently almost 7 in 10 young offenders return to crime when they are released.
Building work for the secure college is expected to begin in 2015 and it is due to open in 2017. It will house up to 320 young offenders aged 12 to 17. Legislation is going through Parliament to create secure colleges as a new form of youth detention accommodation, in the Criminal Justice and Courts Bill.
The secure college will serve young offenders from the Midlands and the East of England, though offenders from other areas could also be taken.
The total overall cost to construct the secure college pathfinder is about £85 million. This includes the cost of the construction contract as well as project management and other specialist services needed to deliver a fully functioning secure college.
The average cost of a place in youth custody is around £100,000 a year.
Over half of 15 to 17-year-olds in YOIs have the literacy and numeracy level expected of a 7 to 11-year-old, and research also indicates that 18% of sentenced young people in custody have a statement of special educational needs.
In 2012/13, 2,780 young people were sentenced to immediate custody.
In March 2014, 1,271 young people were held in the youth secure estate.
Published 8 June 2014