Major contract to support next stage of Dounreay clean-up
Construction of a new facility to support the decommissioning of reactors and demolition of historic active laboratories are just two of Dounreay's major projects expected to be delivered as part of a new framework agreement, potentially worth up to £400 million, which is being published in the Official Journal of the European Union (OJEU) today.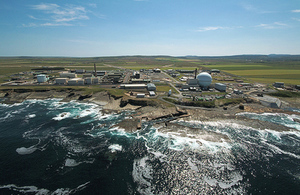 The decommissioning services framework agreement will initially be for a period of up to 4 years with the possibility of extensions of up to 3 years meaning skyline changes could be delivered over the next decade under the arrangements. It will take Dounreay's decommissioning into a new phase, when historic wastes from the shaft, silo and low level waste pits are due to be retrieved, repackaged and consigned to modern waste facilities.
Stephen Adamson, Head of Commercial Services, said: "This framework will deliver real and visible signs of decommissioning progress. It is about forming long-term partnerships so that the successful companies can work alongside our own Dounreay staff, ensuring a first-class team combining the best site skills and experience with the wider industry knowledge and innovation that the supply chain can offer.
"We hope to see larger national companies forming relationships with the local supply chain to deliver packages of work. We want to drive efficiencies and innovation as well as create the opportunity for new skills and development, which will help to sustain the local supply chain and economy. All bids will need to include proposed socio-economic plans which will set out how companies can help us create a positive legacy in Caithness and north Sutherland in preparation for completion of the site's decommissioning."
Publication of the contract notice follows an industry day earlier this year which was attended by more than 100 interested parties. Companies are now invited to express their interest, with contracts expected to be awarded during the second half of 2018.
Once the UK's centre of fast reactor research, Dounreay is now Scotland's largest nuclear decommissioning project and is widely recognised as Europe's most complex nuclear closure programme. The work is being delivered by Dounreay Site Restoration Limited, a company owned by Cavendish Dounreay Partnership, on behalf of the Nuclear Decommissioning Authority.
Published 21 December 2017