World news story
Magna Carta Seminar in Chile
The Seminar was part of a series of events organised by the Embassy during June to commemorate Magna Carta's 800th anniversary.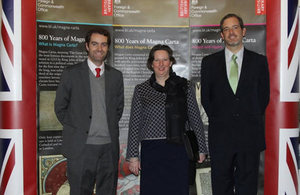 On Monday 15 June the British Embassy, in conjunction with Gabriela Mistral University, UNESCO, Chile's Constitutional Tribunal and the Chilean Congress Library, organised a Seminar to mark the 800th anniversary of the Magna Carta. The event was attended by over one hundred guests from Chilean universities, law schools, academics and Members of Parliament who participated in a very rich debate about the legacy of Magna Carta.
Among the speakers who participated in the debate were José Manuel Cerda, Vice-Chancellor of Gabriela Mistral University; Oscar Dávila, Law Professor at University of Chile; Jaime Arancibia, Director of the Public Law Department at the Universidad de Los Andes and Chile Chevening Scholar 2002-2003, and Marisol Peña, Law Professor at the Catholic University and former President of Chile's Constitutional Tribunal.
Her Majesty's Ambassador Fiona Clouder inaugurated the event by reflecting on the historical importance of Magna Carta and how some of its values are still relevant today:
Magna Carta underpins the basis on which people can stand up for what they believe in. Some of the landmarks relating to the Magna Carta, like the rule of law, the rights of individuals and the right to justice and a fair trial, are concepts that define our societies , our freedoms, and our democracies today– a cornerstone of justice around the world.
The Magna Carta Seminar with Gabriela Mistral University was part of a series of activities organised by the British Embassy during the month of June to commemorate the 800th anniversary of the sealing of the Magna Carta on 15 June 1215.
Further information:
For more information about Magna Carta Month in Chile, contact Pamela Gallardo, GREAT Campaign Coordinator.
For more information about the events and activities of the British Embassy in Santiago, follow us on:
Published 9 July 2015