World news story
Magna Carta Lecture delivered by The Hon Julie Bishop
"A new paradigm in development assistance – harnessing the private sector"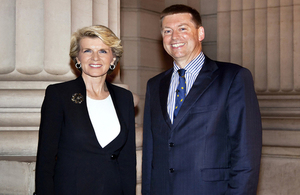 The Foreign Minister The Hon Julie Bishop delivered the 2014 Magna Carta Lecture, hosted by the British High Commission, on Tuesday 29 April at the Parliament of Victoria.
The lecture is titled: "A new paradigm in development assistance – harnessing the private sector".
Speaking about the 2014 lecture, His Excellency Paul Madden said:
Next year will be the 800th anniversary of Magna Carta. It is a seminal constitutional document on which many of the rights and freedoms we enjoy today in Australia and Britain are founded. Prime ?Minister David Cameron has described a "golden thread" of things which developing countries need to get right to promote economic growth: strong institutions, accountable governments, the rule of law. Just the kind of things, in fact, highlighted in the Magna Carta. So we are delighted to host Foreign Minister Julie Bishop to talk about a new development paradigm, harnessing the private sector.
The Magna Carta Lecture series began in 2002 as part of the British Government's involvement in celebrations to mark Australia's Centenary of Federation in 2001. The lecture series explores the Magna Carta themes of democracy and rule of law in contemporary society. Past speakers include a range of prominent British and Australian leaders including the Senator The Hon Bob Carr and The Hon Kevin Rudd.
Read the full transcript of the lecture here
Published 1 May 2014