World news story
Jordan: Magna Carta Fund for Human Rights and Democracy (MCFHRD)
Launch of the 2016-17 Bidding Round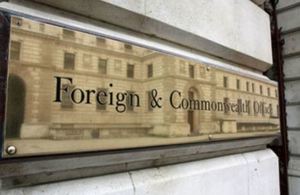 We are pleased to announce the call for bids 2016-17 under the Magna Carta Fund for Human Rights and Democracy (MCFHRD). The following information provides an overview for prospective implementers. Key documents which we reference below can be found at the end of this page. The Magna Carta Fund for Human Rights and Democracy (MCFHRD) is the FCO's dedicated strategic programme fund supporting our global human rights and democracy work. Through targeted projects, it aims to tackle the root causes of human rights violations, strengthening institutions and governance, supporting the promotion and protection of human rights, democracy and the rule of law. Before bidding you should also familiarise yourself with:
the 2016-17 MCFHRD strategy;
guidance for implementers;
the Project Concept Note; and
the standard grant contract.
Human Rights Themes
For 2016, the priority themes in Jordan include:
Freedom of Expression;
Torture;
Women's rights;
Civil Society Organisations; and
Death Penalty
How to apply
Read the strategy carefully and ensure that any proposals you are considering are a good fit and are covered under one of the priority themes
Use the template provided below to submit a Project Concept Note by 13 February
It is also a good idea to discuss your project proposal in advance with the relevant project officer at the Embassy
Successful implementers will be invited to submit a full Proposal by 05 March. The Embassy team will advise you on which proposal form to complete depending on the value of the project.
It is our aim to inform all applicants of the final outcome of their bid by May.
Selection criteria
Bids will be assessed against the following criteria:
value for money
alignment with MCFHRD Strategy, FCO's Foreign Policy Priorities and Post's Human Rights priority themes
evidence of local demand or need
project viability, including capacity of implementing organisation(s)
project design, including clear, achievable impact
risk and stakeholder management
sustainability
Key documents
Guidance for Potential Implementers
You can see the full proposal forms and activity based budget template below:
Full proposal form – projects under £10k
Full proposal form - projects £10k - £80k
Full proposal form – projects over £80k
Activity based budget template
Contact
Please contact Yasmeen.asfour@fco.gov.uk with any questions or queries. Deadline for submitted Concept Notes is 13 February.
Document information
Published: 25 January 2016