World news story
Magna Carta coming to Luxembourg
The 1217 copy of the Magna Carta will be displayed at the European Court of Justice as part of its world tour.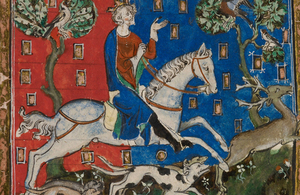 The British Embassy to Luxembourg is delighted to announce the exhibition of the original Magna Carta at the European Court of Justice, as part of worldwide celebrations of the eight hundredth anniversary of this seminal legal document.
The Magna Carta is an agreement drawn up in 1215 to protect the rights of free English subjects from their King, John; it also contains language on the liberties of the Church. It was formally sealed by King John in the presence of his noblemen on the field of Runnymede, outside London, on 15 June 1215. This 1217 copy of the Magna Carta, owned for nearly six centuries by Hereford Cathedral, will be travelling a total of 65,000 miles, to eight countries across four continents, including China and the United States. It will be displayed alongside the only surviving copy of the King's Writ, a letter sent by King John from Runnymede in 1215 to royal officials in each English county, announcing the terms of the Magna Carta.
The British Ambassador to Luxembourg, Alice Walpole commented:
I am thrilled to bring this marvellous historical artefact to Luxembourg. It will showcase, at the seat of European Justice, the United Kingdom's role at the heart of international legal advances and human rights, and our honourable ancient domestic traditions of democracy and rule of law. The principles of Magna Carta remain relevant in today's world, and elements of it remain enshrined in modern British law.
The Ambassador quoted her favourite texts from the Magna Carta:
No free man shall be seized or imprisoned or stripped of his rights or possessions or outlawed or exiled or deprived of his standing, nor will we condemn him but by lawful judgement of his equals or by the law of the land. No one shall be denied or delayed the right of justice.
The document will unfortunately not be on open public display because of security considerations at the European Court of Justice, but arrangements are being made for some school visits and visits by specialist interested groups.
Foreign Office Minister Hugo Swire has welcomed the tour and said:
Magna Carta is recognised as one of the most important documents in the development of modern democracy and as the foundation for the rule of law in modern society. As the document travels across different continents and time zones, there is no better way of celebrating the 800th anniversary this year by sharing this rich history across the world.
A Hereford Cathedral representative, who will be accompanying the Magna Carta on its visit to Luxembourg, said:
I am delighted that our copy of Magna Carta is embarking on this global tour, which will enable more people than ever from across the world a unique and exciting opportunity to see the document close up and learn about what it represents.
More information
Document information
Published: 21 September 2015