Press release
M62 Junction 34 to 33 westbound safety improvements
Work to improve safety on the westbound M62 between junction 34 and 33 in West Yorkshire has begun this week.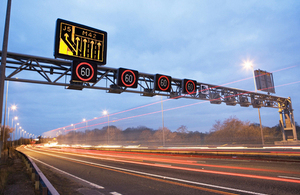 From 11 August work is taking place to improve drainage and install a new steel verge-side barrier.
Highways Agency Project Manager, Gagandeep Singh, said:
We will be improving the existing drainage gullies in the verge along this stretch of the westbound M62 and installing 6 new gullies with associated pipes in the central reservation. We will also be resurfacing the carriageway and reshaping the road surface to improve the flow of water to the roadside drainage channels/gullies. The work is due to be completed by 19 September.
During the work it will be necessary to have 24 hour lane closures in place, one lane will be closed during the day, with two lanes remaining open. During the first phase lane three will be closed 24 hours a day between 11 and 17 August. In additional, lane two will be closed overnight between 8pm and 6am with lane one remaining open.
For the second phase of the work, between 8 and 19 September, lane 1 will be closed 24 hours a day to accommodate temporary safety barriers, which are required to protect Park Balk railway bridge when the permanent safety fence is removed and rebuilt. In addition lane two will be closed overnight between 8pm and 6am.
There will also be a weekend closure of the M62 westbound carriageway, between 8pm on Friday 5 September until 6am on Monday 8 September. This closure is necessary to enable significant resurfacing work to take place and to reshape the road surface to allow for better run off during times of heavy rainfall. The closures are taking place over a weekend, when traffic flows are lower, in order to minimise any disruption to drivers.
During the closures traffic will be diverted off the M62 at junction 34, then north on the A19 to the junction of the A645, where it will be directed westbound following the A645 through Knottingley, turning south onto the A162 to the west of Knottingley and back to the M62 at junction 33 at Ferrybridge.
General enquiries
Members of the public should contact the Highways Agency Information Line on 0300 123 5000.
Media enquiries
Journalists should contact the Highways Agency press office on 0844 693 1448 and use the menu to speak to the most appropriate press officer.
Published 13 August 2014