Press release
M6 Preston waterproofing work resumes with overnight carriageway closures
Work to repair a motorway bridge along the northbound carriageway of the M6 north of Preston in Lancashire will resume this weekend (Friday 25 April) with a series of overnight carriageway closures on Friday, Saturday and Sunday night.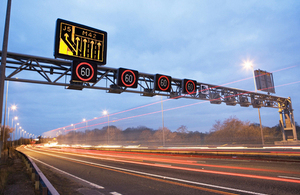 The £150,000 Highways Agency project on the bridge carrying the M6 over Whittingham Lane at Broughton is re-waterproofing work and has been disrupted by poor weather.
The northbound section of the bridge structure is leaking and requires new waterproofing treatment to protect structural elements such as the main bridge beams.
Subject to weather conditions, the work will now be completed by 6am on Monday (28 April) with overnight closures of the northbound carriageway between junction 32 and junction 33 between 10pm and 6am on Friday, Saturday and Sunday nights (25, 26 and 27 April).
The closure will also affect anyone on the eastbound M55 seeking to join the northbound M6 at Broughton Interchange. Those drivers will leave the M55 at junction 1 at the roundabout with the A6 instead and use the northbound A6 to join the northbound M6 at junction 33. Motorway users already on the northbound M6 will be directed onto the westbound M55 and then to leave at junction 1 where they can also join the diversion route along the northbound A6.
Drivers are advised that the work may be postponed again if the weather worsens – with an alternative weekend beginning on Friday 9 May pencilled in.
Drivers are advised to check traffic and travel conditions before setting out on journeys.
The Highways Agency provides live traffic information via its website electronic road signs and mobile platforms, such as the iPhone. Local Twitter services are also available at @HAtraffic_nwest and @HAtraffic_pen9 for transpennine routes.
Providing they can do so safely, road users can also call the Highways Agency Information Line (0300 123 5000) to keep up to date with road conditions
More information is available on the Highways Agency's website
The original news release for the project – which indicated that further overnight closures would be possible – is on the Highways Agency's website here
General enquiries
Members of the public should contact the Highways Agency Information Line on 0300 123 5000
Media enquiries
Journalists should contact the Highways Agency press office on 0844 693 1448 and use the menu to speak to the most appropriate press officer
Published 24 April 2014