Press release
M5 resurfacing work to be delivered early in Gloucestershire
A major resurfacing scheme has been brought forward which will bring twofold benefits on a section of the M5 in Gloucestershire.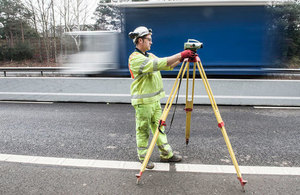 Highways England had originally proposed a programme of work for 2018/19 but will now be resurfacing a seven-mile section of the M5 at Gloucester with quieter materials next spring – a full 12 to 18 months earlier than anticipated.
Funding has now become available to schedule the M5 resurfacing work in March next year – instead of 2018/19.
Rob Llewellyn, Highways England's asset development manager for the south west, said:
Safety is our top priority, we identified junction M5 J11A-J12 among our list of properties in the south west and we are pleased funding has now become available to deliver this scheme earlier than anticipated.
In recent years, Highways England has also been working with local communities and stakeholders to identify a solution to alleviate a longstanding noise issue between junction 11A and junction 12 around Upton St Leonards and Hucclecote.
And acceleration of the resurfacing scheme will bring twofold benefits by helping to address the noise problem for communities bordering the motorway. The resurfacing will replace the ageing road surface with a new one that produces less noise.
Mr Llewellyn added:
Highways England is committed to a quieter network, the need for noise mitigation is a standard consideration in all of our schemes, and this scheme should also help to address a noise issue.

Having worked closely with local communities and stakeholders, we are pleased to announce an earlier start to this programme of work which will not only bring benefits to road users but also to local residents who live alongside the M5.
The latest resurfacing work continues Highways England's investment in Gloucestershire roads with a £28 million programme of bridge work currently being carried out on the M5 between junctions 10 and 13.
The work will ensure the safety and reliability of the bridges for many years to come, and included in the programme is a full bridge deck refurbishment and waterproofing at the Cheltenham Gloucester Road underbridge, along with bridge joint replacements and central reservation barrier work.
At Bamfurlong Lane Bridge and Golden Valley North and South Bridges, the bridge piers and foundations have been weakened by Thaumasite Sulphate attack - 'concrete cancer' – and are being replaced. The junction 13 work is due to be completed early next year and the junction 11 work is scheduled to be completed in late summer 2017.
General enquiries
Members of the public should contact the Highways England customer contact centre on 0300 123 5000.
Media enquiries
Journalists should contact the Highways England press office on 0844 693 1448 and use the menu to speak to the most appropriate press officer.
Published 2 December 2016