Press release
M1 junction 2 to 4 improvement work
Work to help keep journeys safe on the M1 in Hertfordshire and London by installing an emergency crossover barrier will begin next week.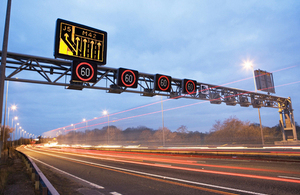 The work consists of installing an emergency crossover barrier within the central reservation barrier on the M1 between junction 2 (Burnt Oak, London Borough of Barnet) and junction 4 (Elstree, Hertfordshire). This installation will enable traffic to be released from behind any incident on the M1 carriageway which results in a prolonged carriageway closure, by allowing traffic to be released across to the opposite carriageway in a controlled manner.
The work will run from Thursday 19 February until Sunday March 8 and will require the introduction of narrow lanes with a speed restriction of 50mph in place 24 hours a day in both directions. The southbound entry slip road and overbridge from the M1 London Gateway motorway services at junction 3 will also be closed overnight during this work with a clearly signed diversion via junction 5. Additional overnight lane closures will be required.
Work on the barrier will be carried out overnight between 10pm and 5am on Monday to Thursday nights and between 11pm – 6am on Friday nights.
Stephen Hall, Highways Agency Asset Manager said:
Safety is our top priority. This work will enable us to release traffic caught behind any major incidents on that part of the M1 in a safe and more effective manner.
General enquiries
Members of the public should contact the Highways Agency Information Line on 0300 123 5000.
Media enquiries
Journalists should contact the Highways Agency press office on 0844 693 1448 and use the menu to speak to the most appropriate press officer.
Published 13 February 2015