World news story
Lynne Franks, a leading UK women's empowerment icon, in Zagreb
The British Business Centre Croatia hosted ''In Conversation with Lynne Franks'' on women in business and today's society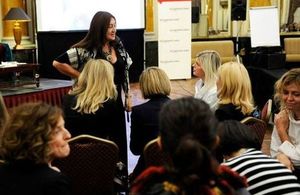 The British Business Centre Croatia hosted the UK's leading women's empowerment icon Lynne Franks. The event was organised with the support of the British Embassy Zagreb, UK Trade & Investment and with the help of our partners and members Zagrebačka banka and Colliers International. British Ambassador David Slinn and President of the Board of the BBCC Vedrana Likan opened the event on Friday. Likan is a successful business woman herself and she gave her views on the importance of gender equality in both business and today's society.
The British Business Centre Croatia (BBCC) is part of the UK's global initiative to bring together the resources of the Embassy, UK Trade & Investment and the private sector to ensure that UK companies can quickly access the Croatian market and get all the support they need.The BBCC has joined us in promoting the UK's commitment to strengthening the commercial relationship with Croatia, thus increasing the value of the bilateral trade flow between Croatia and the UK.
Lynne Franks is a high profile business woman and founder of the SEED (Sustainable Enterprise and Empowerment Dynamics), author, entrepreneur, spokesperson , advisor on the social change, consumer patterns, corporate responsibility and the feminine way of creating business. She gave us a fascinating insight into business and women's entrepreneurship, as well as to her successful career. After leaving school at sixteen, she started her working life as a secretary, but shortly afterwards, she started her own PR agency, which became one of the UK's best-known public relations consultancies. After 20 years in public relations, she announced she would leave her agency and to concentrate on broadcasting and campaigning on Women's Empowerment and Sustainable living.
She currently advises both the private and public sector in her role as a Positioning and Strategic Advisor on Women, as well as consulting on wider communication strategies. Other highlights of her carreer include initiating London Fashion Week and the British Fashion Awards, co-creating the world's biggest HIV/Aids fundraiser, the UK's first women's radio station Viva, promoting Green Consumer Week, putting on What Women Want – the UK's first major women's festival and founding Globalfusion – an alternative marketing agency.
A workshop and lively discussion followed, on defining the key elements in shaping a more cooperative and equal position of women in society.
Published 31 October 2014