Press release
Lupton Trust wins Prime Minister's Big Society Award
The Lupton Trust is the latest winner of the Prime Minister's Big Society Award.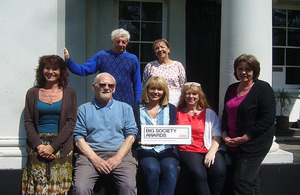 The community group from Devon restored an abandoned Grade II* listed manor house and grounds to its former glory. The group of local unemployed people, volunteers and professionals breathed life back into Lupton House, once a magnificent estate that was left to decay after a massive fire destroyed it in 1926.
The Lupton Trust was formed in 2008 to bring Lupton House and its gardens back into use for the benefit of the community. The following year, 6 people took over the lease and began its restoration.
In the 3 years since then, The Lupton Trust has:
restored 25 of the 59 rooms in the house and opened these up to the public
opened up a café which is supplied by Lupton's community market garden and orchards
engaged 70 disabled and socially-excluded people to help with painting rooms and gardening
hosted 28 weddings after being awarded a license to perform civil ceremonies on site
built partnerships with 18 colleges, schools and community groups who use the grounds and their rooms for educational purposes eg South Devon College has restored the electrics and plumbing as part of their NVQ training
inspired the start-up of several new social enterprises
inspired volunteers to learn new skills and build their confidence
Last year, volunteers completed over 18,500 hours of employment on the estate, which continues to provide work experience for apprentices, young offenders and people with mental health issues.
The Prime Minister said:
I am incredibly impressed by what this group has achieved.

The Lupton Trust has inspired and empowered people, providing work experience for people suffering from mental illness, for disabled people, and for those looking for employment.

It has built people's confidence in their abilities and helped them to forge new social and business partnerships.

The project has brought together a community that will leave a powerful and lasting legacy for future generations - it is an excellent example of the Big Society in action.
Janet Howard, Chair and Founder of Lupton Trust said:
Our location in the heart of heritage parkland brings a sense of peace and tranquillity amidst the hectic demands everyday life, allowing people the time to slow down and take the opportunity to consider their potential within the project and within themselves. People here who volunteer do so because they enjoy it – it is not a job or a means to an end.

This award is the ultimate recognition for the dedication, passion and hard work of everyone involved. So many people said that it 'couldn't be done'.

On paper it doesn't work, there is no business model that comes close to it, we have created 'the Lupton model' we simply allow it to unfold organically and underpin the growth. We are extremely proud to have received this award.
Notes to editors
Images available upon request.
More information can be found by contacting Janet Howard on 07782503711 or janet@discoverlupton.com or by visiting:
http://www.discoverlupton.com/the-lupton-trust.html
In March 2010 the Trust was awarded £200,000 from English Heritage towards the restoration of the Italianate Garden, as well as over £50,000 from the Heritage Lottery Fund towards the garden project.
On the Big Society Awards
The Big Society Awards were set up by the Prime Minister in November 2010. The aim is to acknowledge individuals and organisations across the UK that demonstrates the Big Society in their work or activities. In so doing, the aim is also to galvanise others to follow.
The award focuses upon 3 specific areas:
Outstanding Contribution to Community
people, projects and organisations that enable communities to drive change themselves
projects and organisations that allow the community to identify solutions
people, projects and organisations that inspire others to contribute to their community
Improving Lives and Society through Innovation, Collaboration and New Partnerships
people and organisations taking new approaches to public services
successful collaboration and partnerships between public, private and voluntary sector - working together to benefit communities
Engaging in Social Action
people, projects and organisations taking action in their community
working together for social change (eg through creating groups, campaigns, movements)
generosity of time, money, skills and other resources – in support of social action
Launching the awards, the Prime Minister said:
There are some amazing projects and remarkable voluntary work going on in towns and cities up and down the country, by all kinds of organisations from large enterprises to tiny grassroots schemes and inspirational individuals.

These awards are a chance to pay tribute to those making a valuable contribution to their community, the real champions of the Big Society, but perhaps more importantly, I hope they will motivate many others to take action, get involved and drive change in their area.
Nominations come in from the general public after which there follows a process of scoring and short-listing by civil servants and a further short-listing by a panel of ministers and independent external experts. This panel makes recommendations to the Prime Minister who makes the final decisions about who to make the award to. Twelve winners are decided each quarter meeting and then announced once a week throughout the year.
73 winners have been announced to date, including:
The Welcome, a community centre which has been providing activities and vital services for the local community in Knutsford for over 15 years
Blacon Community Trust, a social enterprise in Chester offering a wide range of community-based activities and services, all focused on 'Building a better Blacon'
St Austell Community Kitchen – Cornwall STAC works to relieve poverty in Cornwall by providing a range of support services
View the full list of winners.
Published 3 May 2013