News story
Low carbon investment in the North East
Business Secretary Vince Cable announces £4.6m funding package for Teesside.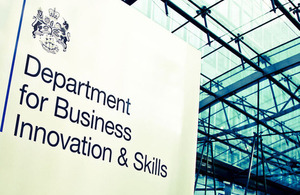 Dr Cable is visiting steel manufacturer Corus, Teesside University and the National Renewable Energy Centre (NaREC) today. The tour is to see first hand how investment in the region is supporting sectors that can sustain growth and help rebalance the economy.
Dr Cable announced £4.6 million in funding from the Tees Valley Industrial Programme (TVIP) for 14 projects in the region.
Of this, £1.3 million will help develop Carbon Capture and Storage (CCS) in the North East.
Business Secretary Vince Cable said:
"Continued investment in the North East is extremely important as we rebalance our regional economies, but this needs to be the right kind of support. It's vital that any grants will garner real benefits for businesses and communities by growing local economies and skills.
"That's why I am delighted to announce this funding, especially for Carbon Capture and Storage, which the North East is well placed to capitalise on. These projects will create a wealth of opportunities for local businesses and create new highly-skilled jobs."
Corus
During his visit to Corus Dr Cable welcomed news the company is extending its skills and training scheme for workers at risk of redundancy.
The Government has also agreed to provide £300,000 to support this further training as part of a package under TVIP to help equip employees with new skills.
NaREC
At NaREC's Blythe facilities Dr Cable will see the construction of a new £15 million test rig that will support R&D into low carbon marine technologies.
Links
Published 5 August 2010