Press release
Love Your Rivers Telford secures £100K fund
The team behind the Love Your Rivers Telford project have secured a new grant of £100,000 which will fund the project for a further year.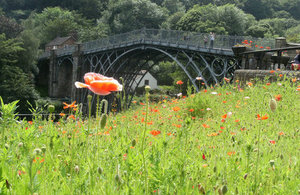 Love Your Rivers Telford was the brain child of the Environment Agency and brings together 8 major organisations, 1 water company, 1 university and 16 community groups who all work together to improve water quality, biodiversity and reduce flooding in Telford.
The project is making great strides towards a joined up approach where all the different parts of the community feel involved and valued and know how they can help in improving the town's water quality, biodiversity and flooding issues. This approach has already proved to be significantly more efficient and cost effective by proactively resolving issues before they become a greater problem and by empowering communities who are out in the town everyday to identify pollution and report it. The team of helpers and volunteers has been growing from strength to strength with people of all ages getting involved.
The grant will help continue the work already started but this year the team are currently looking into a new scheme, known as DePaving, something that is proving hugely popular in USA and Canada.
DePaving involves the towns volunteers taking areas of land typically covered in concrete, tarmac or paving, such as pathways or car park and replace them with planted areas where rain can soak away rather than run off. This allows rain water to make its way back into the watercourses and rivers more naturally, cleaning the water as it goes and slowing its flow, resulting in better water quality, reduced flood risk and increased habitat for wildlife.
Telford will again be a pioneer with the first DePave volunteer group to be established in the UK.
Guy Pluckwell, Environment Officer with the Environment Agency said:
The Love Your Rivers project in Telford continues to be hugely successful and the work that is carried out by the volunteers is invaluable. We are always looking at new projects that could benefit Telford's waterways and Depaving is one of many and is another way to engage the community and make Telford a better place
If you are concerned about any pollution in your area, please report it using the Environment Agency 24 hour incident hotline on 0800 807060.
Published 24 March 2015