World news story
Los Teros launched their 2015 schedule
Rugby Union of Uruguay (URU) presented their schedule in the British Residence.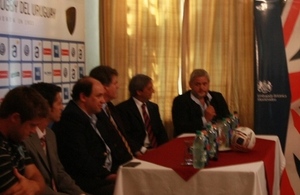 Los Teros presented their schedule ahead of the Rugby World Cup 2015, to be held in the UK. It consists of 17 matches before the team's debut on September 21 against Wales in Cardiff. They will play, among others, against Fiji, Ireland, Georgia, Chile, the Basque Country, Japan, USA and Argentina.
The event was attended by the President of the URU, Sebastian Piñeyrúa, the British Ambassador, Ben Lyster-Binns, Los Teros' coach, Pablo Lemoine, the team captain Nicolas Klappenbach, Marcelo Abreu and National Director of Sport, Fernando Caceres.
Lyster-Binns declared himself a big fan of sport in general and rugby in particular. "I think that rugby is a great game for everyone. It is difficult, physically and mentally. You have to be disciplined and focused. It teaches resilience, teamwork and respect." He stated that Uruguay should be proud to be in the Rugby World Cup and in Group A, with England, Wales, Australia and Fiji. "Uruguay is joining the best players in world rugby nations. That alone is a great achievement and honour." He'll be supporting Uruguay as well as England, Wales and Scotland, he said.
Meanwhile, Sebastian Piñeyrúa said that "Los Teros have a very competitive year. There will be lots of activity and hopefully that allows us to get in the best conditions for our trip to England."
Calendar 2015:
•URU Cup (8 to 14 March)
• Sudamericano Mayor A (11/4 and 18/4 vs Paraguay vs Brazil in the Charrua).
• Test vs USA (April 23)
• Sudamericano Mayor A (9/5 vs Chile in Santiago, 16/5 vs Argentina in Uruguay).
• Tests vs Fiji in Montevideo (23 and May 30)
• Cup Tbilisi in Georgia (from 13 to 21 July)
• Test Match vs Los Pumas in Uruguay (August 1)
• Tests vs Japan (August 22 in Fukuoka and Tokyo August 29)
• Friendly vs Euskadi (September 6 in the Basque Country)
Published 16 March 2015