Lord Stirrup on international development and defence
The way the UK does overseas development should interest all in Defence, former Chief of the Defence Staff Air Chief Marshal The Lord Stirrup writes.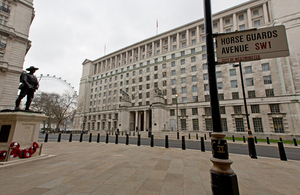 During my tenure as Chief of the Defence Staff the relationship between MOD and the Department for International Development (DFID) underwent something of a transformation - and it needed to.
At the outset, neither side really understood the other's aspirations and limitations, and as a result our efforts in Iraq and Afghanistan were sometimes less effective than they should have been.
But gradually, thanks to the hard work of many from both Departments, especially those deployed to operational theatres, we overcame the friction and started to work not just to a common purpose but through common ways and means.
We in Defence had recognised that the issues we were confronting required a political solution, and that our work needed to facilitate this if it was to be strategically useful.
DFID recognised that the military line of operation was a crucial element in providing sufficient stability for their work on governance to flourish.
The much admired civil-military mission in Helmand became the manifestation of our new understanding. All involved should feel proud of this very welcome progress.
But it would be nice if we could avoid the need to relearn these lessons in future conflicts. So, I believe that it's crucial for MOD and DFID to sustain and nurture their current good relationship, and to develop their future thinking and plans in partnership.
For this reason alone, Development Secretary Andrew Mitchell's announcement of a new approach to the way the UK does overseas development should interest all in Defence.
Among the changes he announced is the concentration of DFID effort on countries where UK aid will achieve the best results in fighting poverty. How does this chime with Defence priorities?
Well, there will be a new, stronger focus on countries on the brink of, or emerging from, violent conflict. Nearly two-thirds of the UK's development programmes - and 30 per cent of Britain's overall aid budget - will be in areas of conflict and in fragile countries.
As Andrew Mitchell explains, the evidence shows that conflict keeps people in poverty and misery. Two-thirds of the countries furthest from reaching the internationally agreed poverty targets - the Millennium Development Goals - are in the midst of, or are emerging from, violent conflict.
Many of these are failed or failing states that pose a serious security risk to us all; when governments cannot control their territory and meet the expectations of their people, terrorists, pirates and drug smugglers - to name just a few malefactors - can gain a foothold.
The Strategic Defence and Security Review recognised that such security challenges require an integrated response.
We do of course need military strength to tackle some of them, but we also need effective diplomacy and targeted aid efforts that deal with the root causes of conflict.
Well-targeted aid can get governments working and give people hope through education and jobs. This can contribute to preventing conflicts before they start and help to reduce the risks that threaten us.
So while putting greater focus on countries that are fragile and in conflict is the right thing to do morally, it is also the right thing to do from the perspective of hard-headed national interest.
It will help to make Britain safer and reduce the need for combat operations, with all the sacrifice that they entail.
We were not able to pre-empt such need in Afghanistan, but DFID's focus on building up the Afghan Government and encouraging economic growth - for example by training 45,000 uneducated young people in vocational skills such as plumbing, electrics, metalwork and IT - is essential if we are to get our people out of the front line as soon as possible.
By giving Afghans an alternative to insurgency, by helping some of the world's poorest people to help themselves, DFID is advancing the day when our combat forces can come home.
The pity is that it's taken us - and the rest of the international community - so long to come to this realisation. How much better if we'd done this in 2002; if we'd acted to pre-empt insurgency rather than allowing it to grow and then being forced into the much more difficult and costly task of confronting it.
We must try not to repeat this mistake. The lessons have been hard-learned, and we must keep them in mind. That's why we should be interested in the UK Aid Review, and all welcome the integrated approach that DFID is thereby helping to promote.
This article is taken from the April 2011 issue of Defence Focus - the magazine for everyone in Defence.
Published 12 April 2011