World news story
Lord Stern visits Chile on the road to COP 21
From:

Part of:

Published:

9 October 2015

Last updated:

10 October 2015, see all updates
Renowned British academic and climate economics expert Lord Nicholas Stern visits Chile invited by the London School of Economics.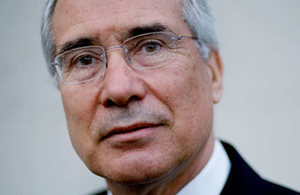 Lord Stern is Chair of the Grantham Research Institute on Climate Change and Environment and the Centre for Climate Change Economics and Policy, which are part of the prestigious London School of Economics. He has also been President of the British Academy since 2013.
Lord Stern became famous worldwide while leading the work on the "Stern Review on the Economics of Climate Change" requested by the British Government and published in 2006. This report refers to the impact of climate change and global warming on the world's economy.
During his stay in Chile he will be the guest of honour at a reception for climate change professionals and LSE Alumni offered by the British Embassy.
He will give a lecture at Santiago's former Congress titled "Why are we waiting? The logic, urgency and promise of tackling climate change". There will also be interventions by Minister of Environment, Pablo Badenier; Minister of Energy, Máximo Pacheco and Senator Guido Girardi.
Lord Stern will also give a lecture at ECLAC titled "Overcoming world poverty and managing climate change".
Lord Stern's visit to Chile is relevant in the current context, as it occurs just weeks away from the annual Conference of the Parties (COP 21) taking place in Paris this December.
Further information
For more information about the events and activities of the British Embassy in Santiago, follow us on:
Document information
Published: 9 October 2015
Updated: 10 October 2015
Presentation by Lord Stern added.
Added translation