World news story
Lord Speaker, UK CPA delegation to visit Kolkata and Guwahati
In Kolkata and Guwahati, the delegation will meet the elected representatives from the West Bengal and Assam legislative assemblies.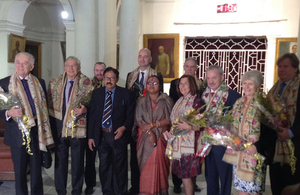 Rt Hon. Baroness D'Souza CMG, the Lord Speaker of the House of Lords, is leading a delegation of members from the House of Lords and the House of Commons to Kolkata and Guwahati to strengthen links and co-operation between Indian and British parliamentarians. They start their Kolkata programme on Tuesday, 17 February after holding a series of meetings in Delhi on Monday.
In Kolkata and Guwahati, the 10-member British delegation will have interactive sessions with elected representatives from the West Bengal and Assam legislative assemblies. The visiting parliamentarians are keen to gain a better understanding of the challenges faced by their Indian colleagues on various fronts including:
the relationship between business, civil society and elected representatives
the representation of women in political life and progress towards achieving gender equality in politics and
relationship between the Union and State legislatures
The UK delegation will call on the Hon'ble Chief Ministers of West Bengal and Assam during their visit.
Apart from meeting parliamentarians, the visiting delegation will also have meetings with trade and industry leaders, see firsthand civil society at work and interact with social activists, and engage in Indo-UK work on environment issues.
A priority for the visiting delegation is to learn how India is dealing with issues of international concern including:
tackling climate change and developing climate smart cities and promoting renewable energy
advancing women and girl's rights and
the work towards ensuring food security
The visitors are keen to explore pro-growth and sustainable initiatives being taken to achieve these objectives. At the same time, the British parliamentarians will have broad-ranging discussion with business and industry leaders to understand the current economic challenges and opportunities in India and the areas where the UK and India can partner each other for mutual growth and prosperity.
While in Guwahati, the delegation will also attend a UK-supported seminar on India Burma Young Leaders' Dialogue and pay their tribute to those who had sacrificed their lives in the World Wars at the CWGC Gauhati War Cemetery.
Further information:
Kolkata 17-18 February 2015:

the delegation will visit Sri Sri Academy, an ISA school, to see firsthand the British Council's work with schools and young audiences.
the delegation will be hosted by the Hon'ble Speaker of the West Bengal Assembly, Biman Banerjee, for an interactive session with West Bengal Members of the Legislative Assembly.
the delegation will call on the West Bengal Governor His Excellency Keshari Nath Tripathi.
the Rt Hon. Baroness D'Souza and Hon'ble Mayor of Kolkata, Sovan Chatterjee, will launch a first-of-its-kind sensitisation toolkit on climate smart Kolkata for Councillors of KMC.
the delegation will call on the Hon'ble Chief Minister of West Bengal, Mamata Banerjee.
panel discussion on 'Striving for Gender Equality in Politics' co-hosted by the Ananta Aspen Centre discussing experiences, cultures, challenges and progress.
the delegation will spend time to meet children from Khelo Rugby and see them practice.
the delegation with have an interactive session with industry leaders on business opportunities in West Bengal hosted by the British business group.
the delegation will visit a branch of Arohan Financial Services, a DFID-supported microfinance programme.
see firsthand how Women's Interlink Foundation, an NGO which provides girl children of sex workers with skills and vocational training, is skilling beneficiaries and making them financially self-reliant.

Guwahati 19-20 February 2015:

the delegation will pay their tribute to those who had sacrificed their lives in the World Wars at the CWGC Guwahati War Cemetery. There are now 486 Commonwealth servicemen of the Second World War buried or commemorated in this cemetery.
hosted by Youth Forum for foreign policy to encourage constructive dialogue on evolving India-Burma relationship, attend a seminar on India Burma Young Leaders' Dialogue.
visit a tea garden in Nagaon district and interact with tea experts to understand the socio-economic importance of tea to the Assam.
attend a presentation by environmental NGOs, government officials, and sector experts on Assam wildlife and current conservation challenges.
roundtable on 'Economic Challenges and Opportunities in the North East' hosted by Federation of Indian Chambers of Commerce and Industry.
the delegation will be hosted by the Hon'ble Speaker of the Assam Assembly, Pranab Gogoi, for an Interactive Session with Assam members of the Legislative Assembly.
the delegation will call on the Hon'ble Chief Minister of Assam, Tarun Gogoi.

Profile of the delegates (PDF, 270KB, 3 pages)
Stuart Adam, Head,
Press and Communications
British High Commission, Chanakyapuri
New Delhi 110021
Tel: 44192100; Fax: 24192411

Mail to: Mainak De
Follow us on Twitter, Facebook, Flickr, Storify, Eventbrite, Blogs, Foursquare, Youtube
Published 16 February 2015