World news story
Lord Mountevans promotes City of London expertise at Posidonia 2016
Lord Mayor of City of London highlights UK maritime, financial and professional services to shipping community during two day visit to Greece.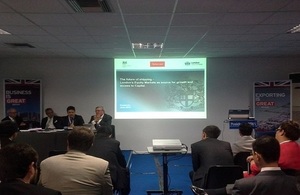 UK Trade and Investment (UKTI) Greece hosted the Lord Mayor of the City of London, Lord Mountevans, on a two day visit to Athens. During a full programme of meetings and engagements organised by UKTI Greece, Lord Mountevans:
promoted the City of London as a centre of excellence for the provision of maritime, financial and professional services
underlined the importance of Greek shipping to the UK economy
Lord Mountevans said at the embassy reception for Posidonia:
The UK is open for maritime business and open to a strengthened partnership with Greece, a great shipping nation and a key partner for London and the UK. My message today is one of partnership. Partnership for our countries and partnership between our great maritime and shipping industries that will contribute to growth and prosperity for both our economies.
Shipping in the UK and Greece
Greek ship-owners control:
19.63% of global carrying capacity
almost 50% of the European Union's (EU) merchant fleet
The maritime sector is also very important for the UK:
bringing £11 billion into the economy
providing 112,000 jobs
Greece is the world's fourth largest market for London legal services, almost exclusively as a result of shipping. Major British law firms operate in Piraeus. Greek ship-owners or the P & I clubs, insurers and solicitors operating on their behalf make a significant contribution to the UK economy in legal fees.
Lord Mountevan's visit
Lord Mountevans' presence in Athens aimed to stress London's attractiveness as a base for global shipping and related financial and professional services. It came as a response to an explicit recommendation in the Maritime Growth Study undertaken by Lord Mountevans for Her Majesty's Government (HMG).
The aims and outcomes of the visit were to:
promote and support the UK- based financial, professional and maritime services industry in an important EU partner country that is facing challenging economic and financial conditions
highlight the strength and competitiveness of the UK as a global financial and maritime services centre
highlight the potential for City businesses to work with Greek counterparts in the private and public sectors to deliver mutual benefits in areas such as maritime services, capital raising and advice on restructuring and privatisation
build on our excellent bilateral relations to strengthen the UK's position as partner of choice in providing maritime, financial and professional services in the Greek market
Within this framework, Lord Mountevans held a number of meetings in Athens, including:
Hellenic Banks Association
Union of Greek Ship-owners
Institute of Chartered Shipbrokers
UK law firms and P&I Clubs active in Greece
Greek Ministers of Finance and Merchant Marine
Governor of the Bank of Greece
Greek CBI and major Greek banks.
London calling for Greek ship-owners
On Tuesday 7 June, Lord Mountevans welcomed guests to an event held at Metropolitan Expo, the main Posidonia exhibition venue. It was, hosted by the London Stock Exchange (LSE) and Norton Rose Fulbright and supported by the British Embassy and UKTI Greece.
There was a full house at the presentation entitled 'The Future of Shipping: London's Equity Markets as a source for growth and access to capital'. as a way of interesting Greek shipping to consider the possibilities offered by the LSE for access to capital in view of much reduced bank financing.
Lord Mountevans noted,
In the future, we want to be able to present more companies which can say they turned to London's capital markets in order to secure funding for further growth and development.
Axel Kalinowski, Manager – Continental Europe, LSE, emphasised that:
capital markets will play a much more important role in funding for shipping one of the advantages of the LSE is that it offers access to investment portfolios from diverse geographical sources.
Posidonia opening ceremony
Lord Mountevans attended the Posidonia opening ceremony on Monday 6 June. It was marked by high-ranking government and shipping officials.
He then had the opportunity to meet and support the UK presence at the exhibition. This year it consisted of 135 exhibitors from all sectors of the maritime industries, exhibiting independently or through their Greek representatives.
UK exhibitors included:
Society of Maritime Industries
Lloyds Register
Institute of Chartered Shipbrokers
Inmarsat Global
Royal Institute of Naval Architects (RINA)
Institute of Marine Engineering and Technology (IMAREST)
UK Hydrographic Office.
Embassy reception for Posidonia
The Posidonia reception held at the British Residence is a major event on the Posidonia calendar. It is a celebration of the long and successful Greek-British relationship. It was attended by officials, senior members of the Greek and British shipping community and many UK exhibitors.
View the Posidonia reception photos here
Contacts
If you are a UK financial and professional services provider interested in exploring the possibilities offered by the Greek shipping and other consultancy opportunities please contact us:
Sotiris Leontaris, Head of Commercial Section UK Trade & Investment, British Embassy, Tel: +30 210 7272645 E-mail: sotiris.leontaris@fco.gov.uk
Published 13 June 2016