Lord McNally visits trailblazers in transparency
Lord McNally visited the Midlands to see how one local authority is leading the way in transparency and Freedom of Information.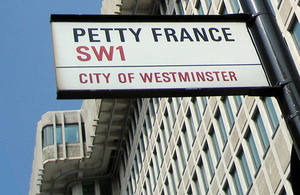 Northamptonshire County Council (NCC) is widely recognised as a front runner in the field of transparency - both for the quality of its replies to requests made under the Freedom of Information (FOI) Act, and the way it makes information freely available to the public through its website.
Lord McNally visited the council's Northampton headquarters where he learned about the council's track record on transparency, including how the council was the first in the country to proactively publish the salaries of its most senior staff.
The MOJ's minister for freedom of information and data protection also met the small team responsible for all the requests for information that the council receives, and congratulated them on giving their employer such a good reputation for transparency.
Lord McNally said: 'I was fascinated to visit Northamptonshire and see how the county council has embraced the transparency agenda. It has been a genuine pioneer in publishing senior salaries and council spending online where the public can easily access it.
'I was particularly pleased to meet the people whose job it is to find information for members of the public when they submit an FOI request, and to see how genuinely passionate and knowledgeable they are.
'It is absolutely right that the public should be able to hold Government to account at all levels, and being open and transparent truly is the best way to achieve that.'
To coincide with Lord McNally's visit, the council launched a new feature on its website where people can access every FOI request made to the council.
The MOJ recently re-launched its own online disclosure log of FOI requests made to the department
Published 16 June 2011