Press release
Lord McNally appointed new Chair of Youth Justice Board
Lord Tom McNally has been appointed as the new Chair of the Youth Justice Board (YJB).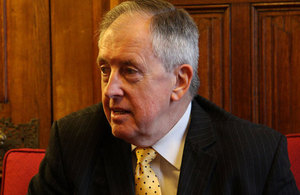 He will take up the post in mid-March in line with the requirements of the Advisory Committee on Business Appointments (ACoBA).
Announcing the appointment the Justice Secretary Chris Grayling said:
"I am delighted to announce Lord Tom McNally as the new Chair of the Youth Justice Board. He brings with him a wealth of experience and understanding which will be invaluable to the YJB in its mission to help young people break out from the cycle of crime and get their lives back on track."
Outgoing Chair Frances Done said:
"Lord McNally has demonstrated a very strong track record of supporting both the YJB and the interests of young people in the justice system. I know that he will provide excellent leadership to the YJB as it continues to drive improvement across youth justice, in the community and the secure estate."
The Secretary of State is appointing Angela Sarkis, a current member of the YJB, as interim Chair from 1 February 2014 (when the post becomes vacant) until Lord McNally takes up the post.
Notes to editors:
Lord McNally was Minister of State for Justice & Deputy Leader of the House of Lords. He has had a long career in politics, including working as the Head of the Prime Minister's Political Office under James Callaghan, and serving as an MP from 1979 to 1983.
From 1993 to 2004 Lord McNally had a private sector public relations career, working for Weber Shandwick with a range of industries advising on change programmes as well as handling the media.
He was appointed a Life Peer in 1995 and in 2004 was elected leader of the Liberal Democrats in the House of Lords.
For further information contact the Ministry of Justice Press Office on 20 3334 3536.
Follow us on Twitter @MoJPress.
Published 18 December 2013