World news story
Lord Mayor promotes City of London expertise in Peru
The Lord Mayor aims to build stronger business links with Peru and highlight the City's role in infrastructure finance and project management.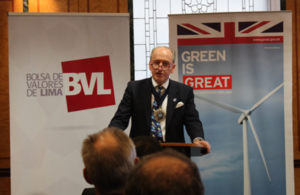 In his first visit to Peru, the Lord Mayor of the City of London, Alderman Charles Bowman, an Ambassador for the City and the UK's financial and professional services sector, is in Lima today to meet the Peruvian Prime Minister, César Villanueva.
He will also meet the Minister of Foreign Affairs, Néstor Popolizio; the Economy and Finance Minister, David Tuesta; and the Central Bank Governor, Julio Velarde.
Roundtable event
At a roundtable hosted by CONFIEP (Peru's largest business association), the Lord Mayor will deliver opening remarks and present a new report highlighting why the City of London is a world leading centre for infrastructure finance and project management.
The event will be attended by
Ricardo Labó, Vice Minister of Mines
representatives of the Ministry of Economy and Finance, and the Ministry of Transport and Communications
Edgar Quispe, Executive Director of the Reconstruction for Change Authority
Carlos Ugaz, Executive Director of the Lima Metro
Jaime Reusche, Adviser to the Executive Committee of the Lima 2019 Pan and Parapan American Games
chairs of banking and insurance associations
Green bonds guide launch
In partnership with the Lima Stock Exchange (BVL), the Lord Mayor will launch a guide to Green Bonds, financed by the British Embassy in Lima, to set up green bonds in Peru. This is the first joint initiative for the development of a Peruvian securities market that includes green bonds within its portfolio.
The Green Bonds Guide will present the basic principles that must be met in order to issue green bonds to finance projects for the mitigation and / or adaptation to climate change.
The Lord Mayor will conclude his visit to Peru with a keynote speech on fintech and sustainability to business students at Pacifico University.
Commenting on his visit to Peru, Charles Bowman, the Lord Mayor of London said:
When I was elected Lord Mayor I made clear that during my year in office representing the UK's financial and professional services sector I wanted to visit Peru.

As a fast growing economy in South America, Peru represents a natural partner for British businesses looking to expand into Latin and South America.

I'm looking forward to discussing with senior government and business representatives in Lima, including Prime Minister César Villanueva and members of President Vizcarra's Cabinet, about how the UK and Peru can partner to spur on mutual growth. Of particular interest are the fields of infrastructure and green finance, fintech, and asset management.

Travelling at the head of a senior City delegation, I'm confident that this visit to Peru will be hugely productive and will help build stronger business links to bind our 2 countries closer together.
Published 30 April 2018