World news story
Lord Mayor of London visits Angola
The Lord Mayor of the City of London Alderman Roger Gifford visited Angola from 28 to 30 April with a business delegation comprising nine British companies.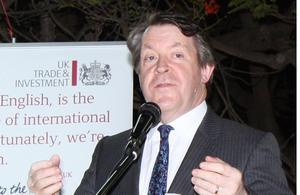 In a packed programme, the visitors met with representatives of the British Group of Angola, the Sovereign Wealth Fund administrators, the Foreign Minister and Ministers of Finance, Trade, and Transport, the Secretary of State of the Economy, the Capital Markets Commission, Dr Aguinaldo Jaime (Chairman of the Working Group for Insurance, Reinsurance and Pension Funds) as well as attending a lunch for several leading bankers from Luanda and a reception at the Residence, where he presented donations from the Lord Mayors Charity Trust.
In addition he attended a bankers lunch and spoke at a BAI academy seminar to a range of bankers from across Angola.
We also held a reception in his honour at the Residence, attended by representatives of the Angolan financial services, lawyers, Angolan businesses, diplomats and Chevening alumni. The Lord Mayor presented donations from the Lord Mayor's Trust for Charities to three local charities, UCF, Lar Kuzola Orphanage and TB HIV Hospital (all supported by the Luanda British Women) and DIAGEO kindly donated variations of their Johnnie Walker whisky.
Published 23 May 2013