World news story
Lord Mayor looks to build financial ties with Qatar
The Lord Mayor of the City of London, Andrew Parmley is visiting Qatar on 26 - 27 November.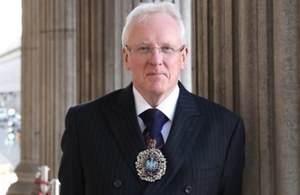 The Lord Mayor of the City of London, Andrew Parmley, is visiting Qatar on Saturday 26 - Sunday 27 November to help improve financial and professional services ties between Qatar and the UK. The visit will aim to boost bilateral trade and investment between the two countries which currently stands at over £5 billion per year.
Acting as ambassador for the UK's financial and professional services, Lord Mayor Parmley will be in Doha to meet the Minister of Finance, Governor of the Qatar Central Bank, CEO of the Qatar Investment Authority, CEO of the Qatar Financial Centre, CEO of the Qatar National Bank and speak at a reception hosted by the British Ambassador.
He will emphasise how the City of London can support Qatar's 2030 National Vision-driven infrastructure programme and their hosting of the World Cup in 2022.
Speaking ahead of his trip, Lord Mayor Parmley said:
The UK fully supports Qatar in its ambitious plans to grow a sustainable and vibrant economy in the next decade. We have seen incredible growth in the past few years and now their ambitious investment plans, coinciding with the 2022 World Cup, mean economic partnerships with global financial centres – of which London is one – are going to be integral to their expansion. I can guarantee that both the UK, and the City of London, will be standing by Qatar in these fast-moving times.
The Lord Mayor will also visit Kuwait on his Gulf states visit.
Notes to editors
About the Lord Mayor of the City of London
The Lord Mayor is head of the Square Mile's City of London authority for one year and the position is unpaid and apolitical. It is an exceptionally demanding role. The Lord Mayor spends some 90 days abroad and addresses some 10,000 people face-to-face each month (making around 800 speeches a year).
The Lord Mayor represents City businesses and helps the City Corporation advise the Government of the day on what is needed to help the financial services sector to function well. The Lord Mayor frequently travels to represent the City; and travels overseas with the status of a Cabinet Minister.
The Lord Mayor meets several international Heads of Government and Business each month to discuss financial services, often in conjunction with senior City business representatives. The Lord Mayor lives in the Mansion House for the Mayoral year.
Media Enquiries
Henry Tanner, Senior Media Officer, City of London Corporation Tel: 020 7332 1835 / Mobile: 07717 797821 Email: henry.tanner@cityoflondon.gov.uk
Published 27 November 2016