World news story
Lord Mayor for more partnerships between the UK and Mozambique
The Lord Mayor of the City of London visited Mozambique in October to strengthen trading relationships.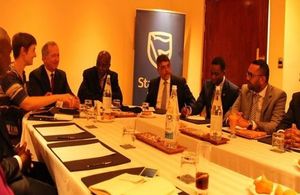 By Alan Yarrow, Lord Mayor of the City of London
What a great time to be visiting Mozambique this week. A young, vibrant country with big ambitions and a bright future ahead. A country described by no less than the International Monetary Fund as one of the 'most dynamic economies on the continent.' And a country that I expect to see playing an increasingly prominent international role in the coming years. For those reasons and more, I am delighted to be here, strengthening the commercial links between the UK and Mozambique
As the ambassador for the UK's financial and professional services sector, I travel extensively around the world looking to build economic partnerships with key international markets. Mozambique is the 29th and penultimate country I will have visited in the past 12 months as part of my Mayoralty. Bilateral trade stood at £129m last year, this might seem impressive, but I am determined to see that merely as a starting point. We should always set the bar high and keep a look out for new, innovative developments in our trading relationship – and as the starting point, my visit might be an opportunity to help connect ambitious UK firms wanting with the right commercial contacts in Mozambique.
Partnership is going to be the buzzword during my three-day visit. I want to cement our partnership when I meet with Prime Minister Carlos Agostinho do Rosario. The development of the financial sector in Mozambique, investment and infrastructure opportunities, capital markets development, challenges in the energy sector, Public Private Partnership (PPP) projects and building capacity through education, skills and technology; the drivers of development will be on the table for discussion, along with strengthening our economic and diplomatic ties.
One of the big topics will be the general macroeconomic picture. No country is immune from the global market jitters, as seen recently with the potential slowdown in the Chinese economy. With estimates of a 40 percent fall in in the value of Chinese imports from Africa, countries like Mozambique will need to make sure that they continue efforts to have a robust, diversified, resilient economy.
While Mozambique has gas and mineral deposits, which have lured significant foreign investment, the future income from this is being sold against debt. I want to share some of the lessons of my over 40 years in the UK's capital markets and investment banking sector, while at the same time showcasing the UK's experience and good practice in the energy sector. This includes adherence to responsible investment principles and transparent public procurement, as well as ensuring a predictable legal and tax framework, and licensing timings, all important elements for an attractive business environment.
As contracts go to tender for construction, new ports, new railways and other infrastructure, I want to highlight the expertise and experience of UK firms – not just those found in London – and how they are able to deliver what Mozambique's economy is looking for. Take for instance the Mozambique Backbone Transmission System (CESUL) power transportation network between the centre and the south of country and how the government is looking to finance the project. This is precisely something where we can offer support.
The topic of infrastructure will also be on the table when I meet the Minister of Transport and Communication Carlos Mesquita on Wednesday. In particular I will raise just how the UK can play a positive role in helping to get infrastructure projects off the ground. For example, I will remind him of the success of the London 2012 Olympics and Paralympics.
We delivered the famous Games on time and under budget. We have world-beating firms able to deliver the large-scale infrastructure projects that Mozambique is looking to undertake; everything from capability studies and financing to delivery, getting the projects from the architect's blueprints to spades in the ground.
Underpinning all of these opportunities is the financial and associated services industry. Expanding banking, insurance, legal services provision throughout society helps encourage growth in the wider economy as business gain access to capital and know how to help them grow. Some of these firms will be joining me on the visit as well as the Mozambique offices participating on their home territory.
The share of knowledge and skills is another angle of our partnership that cannot be underestimated. Education and technical training opportunities in the UK have helped and will continue securing an increasing number of Mozambican professionals via institutional links, like the Mansion House scholarships and Chevening, which is providing for the 2015/2016 academic year 10 scholarships in areas including agriculture, extractives, and financial services.
As we celebrate the 40th anniversary of Mozambique's independence, I look forward to strengthening the economic, diplomatic and cultural ties that bind our two nations. We recognise the potential in Mozambique, which is why it is one of the UK's five 'High-Level Prosperity Partners' in Africa. I want to build on our already strong partnership, especially in the financial sector.
I hope my visit achieves three things. Firstly, that the government and business leaders in Mozambique see that the UK is open for business. Secondly, that our own firms, across all sectors, see just how open Mozambique is to inward investment and commercial opportunities. Finally, on the same theme, I hope we come to see just how open trade and investment environments can benefit both our countries to boost our prosperity and wellbeing.
Published 13 October 2015