News story
Lord Lingfield champions more freedom for further education
Lord Lingfield, working with an expert panel, was commissioned by the Government to see how to raise standards and professionalism in the sector…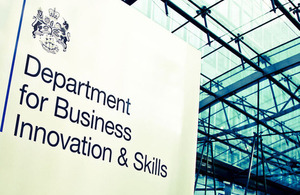 Lord Lingfield, working with an expert panel, was commissioned by the Government to see how to raise standards and professionalism in the sector so it can best serve its students and workforce.
Their conclusions include the endorsement of a guild that would enhance the status of the sector by providing a single body to set professional standards and codes of behaviour, as well as develop qualifications.
They also recommend that high performing colleges and providers should be recognised and given more freedom with the independent and publicly recognisable award of chartered status.
In addition, they recommend that teachers of English and Maths as well as those working with students with learning difficulties or disabilities should have specialist qualifications.
?In response the Government has announced that it will take forward the creation of a guild.
At the launch of the review at the Building Crafts College in East London, Skills Minister Matthew Hancock said:
"I want our FE colleges to be a beacon of excellence, open to the best teachers and providing high quality training.
"We have asked the Association of Colleges to take forward their partnership's proposals for a guild that will support and enhance the professional standing of those who teach in further education, and I look forward to working with them to develop these."
Lord Lingfield said:
"I would like to thank the former FE and Skills Minister John Hayes for giving me the opportunity to lead this important piece of work, and my expert panel for their support over the last nine months.
"I believe the proposals in our interim and final reports will help free the FE sector from unnecessary regulation and bureaucracy and enable it to take responsibility for its own professionalism."
Martin Doel, Chief Executive of** **the Association of Colleges, said:
"Lord Lingfield's review is a welcome acknowledgement of a mature sector ready to be freed from over-regulation; a sector with a vested interest in the continuous improvement of its workforce for the benefit of both staff and students.
"This report reinforces the autonomy of colleges, embodied in the proposals for an FE Covenant, a Guild and Charter status, which could be a prelude to a more proportionate and appropriate means of building and sustaining excellence in colleges."
Chris Jones, Director-General and CEO of City & Guilds, and Len Conway, Principal of the Building Crafts College said:
"We are delighted that the Minister has used this visit with City & Guilds and the Building Crafts College to announce the outcomes from the Lingfield Review.
"As the work of City & Guilds and the Building Crafts Colleges shows, good pedagogy needs to be matched with industry insight and quality assured appropriately and this is why we welcome the central recommendations in the Lingfield Review."
As part of the review, the panel visited colleges and providers across the UK as well as looking at FE sectors in countries as far as Australia, Brazil, Canada and America, to see how the FE sector in England can learn from their approach.
**Notes for Editors
**1. The 'Independent Review of Professionalism in Further Education (FE)' was commissioned in January to review the current arrangements to regulate and facilitate the professionalism of the Further Education and Skills workforce and to make recommendations for how these should be changed or improved. To see the full report, visit: http://www.bis.gov.uk/assets/biscore/further-education-skills/docs/p/12-1198-professionalism-in-further-education-final
In the interim report, which was published in March, the panel made recommendations to remove regulations, review teacher qualifications and resolve the dispute over payment of IfL membership fees. An update on progress towards implementing these is in the new report.

The panel comprised of Lord Lingfield, David Sherlock CBE, Dawn Ward OBE and Daniel Wright.

Lord Lingfield, Robert Balchin is a British educationalist, noted as an advocate for school autonomy. He was Chairman of the Grant-Maintained Schools Centre (formerly Foundation) from 1989 until 1999. He also serves as Pro-Chancellor of Brunel University and has been Chairman of the Centre for Education Management (now CEFM) since 1995.

The Minister made the announcement whilst visiting the Building Crafts College. The Building Crafts College has played a significant part in a number of infrastructure projects around the Thames Gateway, most notably London 2012. The college also works with City & Guilds, which is the leading provider of vocational and work-related qualifications, working with 2 million learners every year, across 8500 centres (from colleges to private training providers to employers). City & Guilds works in over 80 countries, offering more than 500

The Government's economic policy objective is to achieve 'strong, sustainable and balanced growth that is more evenly shared across the country and between industries.' It set four ambitions in the 'Plan for Growth' (PDF 1.7MB), published at Budget 2011:
To create the most competitive tax system in the G20
To make the UK the best place in Europe to start, finance and grow a business
To encourage investment and exports as a route to a more balanced economy
To create a more educated workforce that is the most flexible in Europe.
Work is underway across Government to achieve these ambitions, including progress on more than 250 measures as part of the Growth Review. Developing an Industrial Strategy gives new impetus to this work by providing businesses, investors and the public with more clarity about the long-term direction in which the Government wants the economy to travel.
BIS's online newsroom contains the latest press notices and speeches, as well as video and images for download. It also features an up to date list of BIS press office contacts. See http://www.bis.gov.uk/newsroom for more information.
Notes to Editors
Contact Information
Name BIS Press Office Job Title
Division Department for Business, Innovation & Skills Phone
Fax
Mobile
Email bispress.releases@bis.gsi.gov.uk
Name Victoria Heath Job Title Ms Division Department for Business, Innovation & Skills Phone 020 7215 5950 Fax
Mobile
Published 23 October 2012