News story
Lord Lieutenant salutes Dounreay on 60 years of apprentices
The latest batch of Dounreay's newly qualified skilled workers were encouraged to make the most of the exciting opportunities and challenges ahead.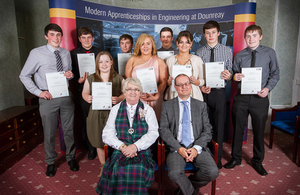 This year Dounreay's new recruits are the sixtieth group of apprentices in a long line of young people joining the site's highly respected apprenticeship scheme since 1955.
Dounreay is one of the few companies who have taken on apprentices without a break for sixty years. Giving her keynote speech at the annual prize giving ceremony on Friday, Lord Lieutenant of Caithness Anne Dunnett, talked about her own ambitions to succeed as a solicitor when she too completed her apprenticeship against the odds following her initial career as a sheriff officer.
She was speaking at the awards ceremony of Dounreay's apprentice training programme when she presented certificates of indenture and achievement trophies to the latest group of young people to qualify in electrical, mechanical and instrument crafts.
Anne said:
I am very proud to be here to celebrate with you tonight and wish you all the success for the future.

I am living proof that you can do anything if you put your mind to it and you are lucky to have this opportunity at Dounreay and to be able to earn while you learn.

You should be grateful to everyone who has helped you get this far and I hope you stay with us and keep our young generation in the county. I salute Dounreay for providing this scheme for sixty years and well done on all your achievements.
DSRL's Training and Development Manager Jillian Bundy, said:
This is always a special evening for the team, as we celebrate the transition of our apprentices from the inexperienced school leavers we recruited, to confident, skilled and well qualified young adults, embarking on the next stage of their careers.

We are very proud of their success and are delighted to welcome all their parents to share this special occasion.

We are extremely proud of our sixty year history of apprenticeships, which supports our aim to become the benchmark in Europe for successful decommissioning of a complex nuclear site.
Published 23 September 2015