World news story
Lord Howe visit to Kuwait
Lord Howe's visit aimed at boosting cooperation between Kuwait and the UK on various levels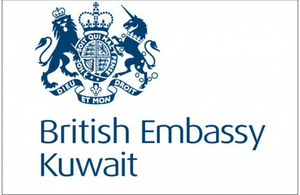 The Rt Honourable Frederick Richard Penn Curzon, 7th Earl Howe, Parliamentary Under secretary of State for Quality, UK Department of Health visited Kuwait on 30 September and 1 October. Lord Howe held talks with Kuwaiti officials on bilateral relations, health, higher education, investment and technology sectors.
Lord Howe's visit aimed at boosting cooperation between Kuwait and the UK on various levels with special focus on the health sector. The UK is renowned for its health services excellence and many Kuwaitis travel every year for treatment in the UK. The Undersecretary visited Dasman Diabetes Institute and discussed further cooperation in this field.
Lord Howe told the local press:
We have discussed in detail means of cooperation in the health sector between the two countries. We have also looked into types of health facilitations that we could both offer.
The visit came as part of the continuous cooperation between the UK and Kuwait that has gained more momentum following HH the Emir's successful visit to the UK last year.
Published 3 October 2013