Lord Hill responds to the 'Yorkshire Post' on academies and free schools
The Schools Minister writes in response to Chris Keates' comments published in the Yorkshire Post on 25 November 2010 regarding academies and free schools.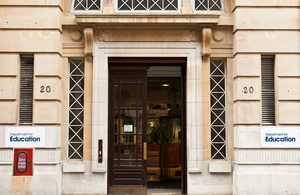 Dedicated people working to build great school
What a shame that the hostility Chris Keates obviously feels towards academies and free schools (Yorkshire Post, 25 November 2010) blinds her to the facts.
The truth is that academies, introduced by the last government, have raised educational standards: GCSE results have improved twice as fast in academies as the national average and in some academies much faster than that.
International evidence shows that free schools also raise standards in schools. So in Bradford, the passion and determination of inspirational teachers to make a real difference with new free schools should be celebrated, not attacked.
Contrary to what Ms Keates says, free schools will not be established without rigorous checks and independent schools that become free schools will have to stop charging fees.
The schools white paper sets out our plans to raise standards and start to close the gap between rich and poor. It's shocking that the latest figures show that only 40 of the 80,000 children in England eligible for free school meals secured places at Oxford or Cambridge.
It is the children from the poorest backgrounds who have been let down the most so, yes, we want to move fast.
Fortunately, passionate teachers, parents and charities are working flat out to create more great schools and give pupils more choice. It is they, not Ms Keates, who are leading the way.
Published 30 November 2010