Lord Hill responds to 'The Guardian' on academies
Schools Minister Lord Hill writes to 'The Guardian' on underperforming schools and academies.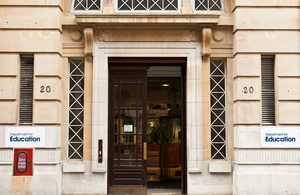 Dear Sir
David Lammy's letter ('Stop this bullying over academy status', 17 December) and Warwick Mansell's article ('It's the end of state education', 20 December) were both wrong, so far as both motives and methods are concerned.
Our motivation is simply to raise standards for children. Eight primary schools in Haringey are below the floor standard - the highest number in London, with 5 having been below for 4 or more of the last 5 years. Ofsted have said that 5 Haringey primaries need significant improvement.
Our support for academies is not based on an ideological whim, but evidence which started to accumulate under the Labour government. It has been backed up by independent reports from the London School of Economics and the NAO. Schools in some of the most deprived areas of the country that were once underperforming have been transformed thanks to the Academy programme, supported by passionate sponsors and fantastic teachers.
Back in June, the Secretary of State said that the Government would be targeting underperforming primary schools. He rightly did not 'name and shame' local authorities or schools. Since then officials have had monthly meetings with Haringey - a total of 6 meetings. They have also met local headteachers. At all stages we have been clear that our goal is school improvement and have sought to work with the local authority - as we have done successfully in many other parts of the country.
So perhaps it is not our stance on academies which is ideological. All we want is a lasting solution to under-performance so that children in Haringey can have the kind of opportunities that exist in neighbouring local authorities.
Yours faithfully,
Lord Hill
Parliamentary Under Secretary of State for Schools
Published 23 December 2011