News story
Lord Heseltine Speech: Regional Growth Fund Road Show, Somerset Cricket Club, Taunton
It will provide £1.4bn over three years for projects that will help to create a more balanced economic profile in such areas. I am delighted…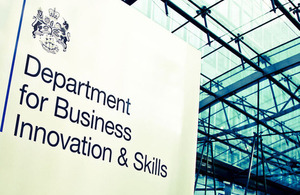 It will provide £1.4bn over three years for projects that will help to create a more balanced economic profile in such areas.
I am delighted to have been asked to provide support to the government by chairing the Independent Advisory Panel established to review and recommend those cases which we identify as meeting the objectives and criteria of the Fund and which offer the best value for money.
My role here today is to encourage people to make bids for support from the Fund.
I want this Fund to do exactly what it says on the tin.
I want it to lever private sector investment on top of the government's contribution. Indeed the majority of project funding will be expected to come from the private sector and I make no bones about it. The days of a centrally public sector led economy are simply unaffordable.
In truth, the Fund will only provide the minimum amount of public support necessary to allow projects to go ahead. The project appraisers, the advisory panel and I will address this very critically.
I want the investment levered by the Fund to create long term sustainable private sector led economic growth. And in particular I stand by the government's aim that the Fund should help those areas of the country that are currently disproportionately dependent on the public sector make the transition to a more balanced economy by stimulating private sector investment and jobs.
These objectives are not as mutually exclusive as some might think. It will be within the limits of my Panel to prioritise projects on the basis of both their contribution to growth and prosperity and their wider contribution to rebalancing the economy.
Some parts of the country where there are already high levels of employment and a vibrant private sector, including parts of the South West, may struggle to demonstrate how they meet the second objective of the Fund.
While there are pockets of deprivation across the South West and undoubtedly areas affected by public sector cuts that is not the case across the whole of the region. We will take that into account.
This is a challenge fund and each bid will be in competition with the next one. So only the best bids will survive. I hope many of you will produce quality bids that meet the objectives and criteria.
In short I want the high quality of your bids to make my job, that of the other panellists and ministers as difficult as it can possibly be to decide which projects should be funded.
In our outline of the funds working, we have indicated a threshold of £1m per scheme. I should say, however, that I have approached our leading banks to see what part they can play in subdividing such a figure to bring our initiatives within reach of small and medium enterprises or start ups.
In some cases those bids will come from private sector bodies. In others they will come from private/public partnerships. But they should not come from public sector bodies alone.
The amount the private sector offers to add to the public contribution will be a major determining factor, as will creating jobs.
I started by saying that the Fund had been launched on 28 October. It is very much open for business.
If you are too late for the current round of bidding, which closes on 21 January 2011, then you can go for the next call which will be announced shortly afterwards, or even the one after that.
It is customary on occasions such as this to ask for some indication of expectations. I have no targets. Long experience of the private sector has taught me that you can create the conditions in which enterprise can flourish. You cannot predict the form it will take or the scale of the activity. We are creating an opportunity. The private sector will determine the response.
I should also make clear that this is a high risk project. If it was easy to create jobs in the sort of areas we have in mind the market would long since have done so. We will do whatever we can to secure value for tax payers money but we all know that the track record of public investment is littered with failure. We shall do our best to secure value by a close partnership with existing private sector companies.
In truth, again as anyone experienced in the private sector knows, the private sector has a pretty mixed experience in investing in new projects. It is called risk. But the private sector buries its failure in its profit and loss accounts. The public sector rightly has to account more openly.
The challenge is there. I am pleased to be associated with it. I hope you will respond to the opportunity.
Notes to editors
BIS' online newsroom contains the latest press notices, speeches, as well as video and images for download. It also features an up to date list of BIS press office contacts. See http://www.bis.gov.uk/newsroom for more information.
Notes to Editors
Contact Information
Name BIS Press Office Job Title
Division COI Phone
Fax
Mobile
Email NDS.BIS@coi.gsi.gov.uk
Name Una Flynn Job Title
Division Department for Business, Innovation and Skills Phone 020 7215 5256 Fax
Mobile
Email Una.Flynn@bis.gsi.gov.uk
Published 19 November 2010