News story
Lord Heseltine encourages the North East to go for growth
At the first of a series of road shows taking place across the country, Lord Heseltine will meet potential applicants for the Fund to advise…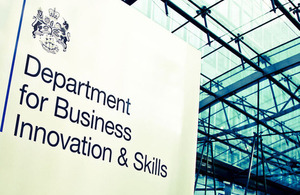 At the first of a series of road shows taking place across the country, Lord Heseltine will meet potential applicants for the Fund to advise them on the bidding process and encourage them to come forward with high-quality proposals that promise to unleash local talent and help communities in the North East to flourish.
More than 150 local businesses, entrepreneurs and civic leaders are expected to attend today's event at the Xcel Centre in Newton Aycliffe, Co. Durham.
The Regional Growth Fund has two key objectives:
to provide support for projects that can drive sustainable economic growth and create new private sector jobs; and
to particular help communities that are currently dependent on the public sector make the transition to private sector-led growth and prosperity.
Lord Heseltine is Chair of the Independent Advisory Panel, which will consider all bids for funding and make recommendations to Ministers about which should be successful. He will be supported by Deputy Chair, Sir Ian Wrigglesworth and a team of academics, business and civic leaders.
Lord Heseltine said:
"I'm delighted to be here in the North East as an advocate for this important Fund.
"The Government is putting local people at the heart of decision-making, empowering them to develop their own vision for long-term local growth and allowing them to make important and innovative decisions that impact on their communities.
"The Regional Growth Fund presents an opportunity for businesses and entrepreneurs in the North East to help shape their own economic future. I hope today's road show will inspire local people to think strategically about their area's priorities and I encourage them to come forward with compelling funding proposals that promise to deliver a positive change to the local economy; bringing new jobs and benefits to local people."
The Regional Growth Fund will operate over three years. The first of at least three bidding rounds is now open and the deadline for proposals is 21 January 2010. Further bidding rounds will be announced in early 2011. More information on criteria for the fund and the bidding process is available from http://www.bis.gov.uk/policies/regional-economic-development/regional-growth-fund.
---
Notes to editors
The membership of the Independent Advisory Panel for the Regional Growth Fund is as follows:
Lord Heseltine, Chair

Sir Ian Wrigglesworth, Deputy Chair

Felicity Goodey (Businesswoman, former senior BBC journalist)

Tony Greenham (Programme Head, New Economics Foundation)

Richard Lambert (Director General, CBI)

Jon Moulton (Chairman, Better Capital equity group)

Caroline Plumb (Entrepreneur, Freshminds)

Sir David Rowlands (Chair of Gatwick Airport Ltd and Angel Trains Group Ltd)

Mark Seligman (Chartered Accountant and Banker, Credit Suisse)

Andrew Shilston (Finance Director, Rolls Royce)

Lord John Shipley (Former Leader Newcastle City Council)

Tony Venables (Academic Economist, Oxford University
BIS' online newsroom contains the latest press notices, speeches, as well as video and images for download. It also features an up to date list of BIS press office contacts. See [http://www.bis.gov.uk/newsroom](http://www.bis.gov.uk/newsroom) for more information.
Notes to Editors
Contact Information
Name BIS Press Office Job Title
Division COI Phone
Fax
Mobile
Email NDS.BIS@coi.gsi.gov.uk
Name Joanna Fletcher Job Title
Division Department for Business, Innovation and Skills Phone 020 7215 5951 Fax
Mobile
Published 6 December 2010