News story
Lord Green takes office as Trade and Investment Minister
Lord Green will be responsible for ensuring the delivery of a cross-Government strategy for trade, vital for the UK's economic growth and recovery…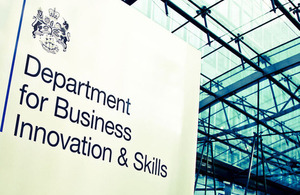 Lord Green will be responsible for ensuring the delivery of a cross-Government strategy for trade, vital for the UK's economic growth and recovery, and for attracting international investment. He will be accountable to both the Secretary of State for Business and the Foreign Secretary.
Last year, inward investment generated 94,000 jobs in the UK while exports represented over a quarter of UK GDP. The Government is committed to build on this.
Prime Minister David Cameron said:
"International trade and investment is absolutely crucial to Britain's economic growth, helping to create and safeguard thousands of jobs at home. So I am delighted that Stephen has joined the Government to drive forward our trade mission.
"Stephen's international business experience will be a real asset to the Coalition, helping Britain to forge strong international relationships, open new trade links and attract high quality inward investment into the country."
Business Secretary Vince Cable said:
"This Government views the promotion of trade and investment as a key priority for Britain's economic growth.
"Stephen will make an excellent addition to our Ministerial team with his business background, including a deep understanding in particular of emerging markets."
Foreign Secretary William Hague said:
"I am committed to a British foreign policy that supports economic growth and recovery.
"Stephen's appointment will help further drive a new commercialism in the Foreign Office, to make us more effective at helping British businesses overseas and encouraging investment into the UK."
Minister for Trade & Investment Lord Green said:
"This is an exciting and challenging time to join the Government.
"This Government is committed to ensuring that trade and investment play a key role in driving balanced and sustainable growth in the UK economy. I believe this challenge can be met.
"Britain has strong intrinsic competitive advantages in the world economy which is taking shape in the 21st century. As we all recognise, British commerce at its best is driven by levels of creativity, efficiency, flexibility and dynamism which are nothing less than world class.
"I look forward to supporting businesses of all kinds, large or small, innovative or traditional, in goods or in services, as they explore and engage with the opportunities and of international markets. Likewise, our task is to ensure the UK is the most hospitable and welcoming destination for productive international investment, building a strong positive image of Britain among our peers and in developing markets."
The trade strategy will be presented in the spring as a Government White Paper which has been developed by the Prime Minister's Trade Adviser, Lord Brittan. The paper will take stock of the UK's current position as a trading and investing nation and set out a strategy for opening opportunities for businesses and securing the benefits of openness for the UK.
The UK is currently the world's sixth largest exporter and second largest investor in foreign markets. Many world-beating business sectors have built up a strong presence in the world's biggest developed markets, in the rest of Europe, the US and Japan. The challenge will be to succeed over the coming decades as global incomes grow in other markets.
Edward Davey, Business Minister responsible for multilateral trade policy and the single market, will work closely with Lord Green. Responsibility for implementing the strategy will rest with a new Trade and Investment cabinet subcommittee for Economic Affairs, which Lord Green will chair.
Lord Green's focus at the FCO will be to help achieve a more commercially-minded office that effectively supports the government's growth agenda. He will oversee a new Commercial and Economic Diplomacy Group tasked with delivering a more commercial FCO in practice.
As head of UK Trade & Investment, Lord Green will help UK firms to export abroad and promote inward investment. As part of this role, he will support UKTI Defence and Security Organisation (UKTI DSO).
He will also have responsibility for the Export Credits Guarantee Department and act as spokesman for the Government on trade and investment issues in the House of Lords.
The Minister will chair the Council of Business Ambassadors which he will be introduced to by the Prime Minister and become a member of the Prime Minister's Business Advisory Network.
Media contact:
For more information, please contact:
Department for Business, Innovation & Skills: Lucy Michael Sutton on 02072155977 or email: lucymichael.sutton@bis.gsi.gov.uk
Foreign & Commonwealth Office: FCO newsdesk on 02070083100 or email newsdesk@fco.gov.uk.
UK Trade & Investment: Susan Grieve on 02072154644 or email: susan.grieve@ukti.gsi.gov.uk
Notes to Editors:
The Minister for Trade & Investment's responsibilities include:
Development and implementation of a cross-Government strategy for trade and inward investment, including the establishment of the UK as the most attractive location for internationally-mobile capital and business investment.
Responsibility for UKTI, including UKTI DSO, ECGD and oversight of the new FCO Commercial and Economic Diplomacy Group.
Core member of the BIS and FCO Ministerial teams providing advice to the Business Secretary, Foreign Secretary, Chancellor and Prime Minister on business policy, and taking a share of wider Departmental duties. Spokesman for the Government on trade and investment issues in the House of Lords.
Member of the Economic Affairs, European Affairs, Banking Reform, Economic Affairs (Reducing Regulation), HA (OPG) and National Security Council (Emerging Powers).
Chair of Economic Affairs (Trade and Investment), Chair of the Council of Business Ambassadors, Member of the Prime Minister's Business Advisory Group.
The international trade event is scheduled to take place at 0800 at 10 Downing Street. It will be attended by the UK's Business Ambassadors. The Business Ambassadors Network was created in October 2008, with a particular focus on helping small and medium-sized enterprises (SMEs), which sometimes face greater barriers to accessing global markets than larger businesses. The roles are unpaid. For information on each individual Business Ambassador please go to:
http://www.ukti.gov.uk/uktihome/aboutukti/keypeople/businessambassadors.html
Biography:
http://www.ukti.gov.uk/uktihome/aboutukti/keypeople/ourminister.html
Notes to Editors
Contact Information
Name BIS Press Office Job Title
Division COI Phone
Fax
Mobile
Email NDS.BIS@coi.gsi.gov.uk
Name Lucy-Michael Sutton Job Title
Division Department for Business, Innovation and Skills Phone 020 7215 5977 Fax
Mobile
Published 11 January 2011