News story
Lord Green response to OECD and WTO report on trade published today
The OECD and WTO have today published the first estimates from their new database on trade in value added (TiVA).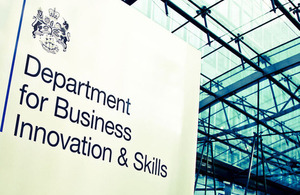 In response to this report, Lord Green, UK Minister of State for Trade and Investment said:
The UK welcomes the launch today of the OECD and WTO's new Trade in Value Added database (TiVA), which we strongly support. This is an important step to broadening our understanding of how trade really adds value to the UK and world economy and will better inform trade policy.
This work underlines the importance of open markets. Protectionism can be significantly damaging as businesses, operating in a globalised economy, manage production and their supply chains across and between different countries. We look forward to continuing to work with the OECD and WTO in developing this database to further improve our understanding of international trade.
Further information about the report is available at the following OECD link: http://www.oecd.org/industry/industryandglobalisation/measuringtradeinvalue-addedanoecd-wtojointinitiative.htm
Notes for editors
The government's economic policy objective is to achieve 'strong, sustainable and balanced growth that is more evenly shared across the country and between industries'. It set four ambitions in the 'Plan for Growth' (PDF 1.7MB), published at Budget 2011:

To create the most competitive tax system in the G20
To make the UK the best place in Europe to start, finance and grow a business
To encourage investment and exports as a route to a more balanced economy
To create a more educated workforce that is the most flexible in Europe.

Work is underway across government to achieve these ambitions, including progress on more than 250 measures as part of the Growth Review. Developing an Industrial Strategy gives new impetus to this work by providing businesses, investors and the public with more clarity about the long-term direction in which the government wants the economy to travel.
Published 16 January 2013