World news story
Lord Green in Lisbon promoting Portugal as platform for UK business with Angola and Brazil
Lord Green, British Minister of State for Trade and Investment, visited Lisbon on 8 May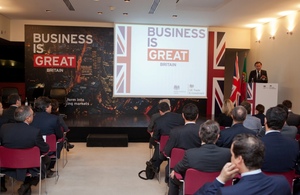 Lord Green, British Minister of State for Trade and Investment, visited Lisbon on 8 May to participate in two UKTI events aimed at promoting UK-Portuguese partnerships to explore business opportunities in Portuguese speaking emerging markets, and aimed at rewarding key Portuguese investors in the UK. He met with three Portuguese Government Ministers to discuss current economic challenges facing UK and Portugal, and areas of common ground in each country's respective strategies to achieve growth and prosperity.
Main elements of the visit programme
UKTI seminar on Portugal as a platform to emerging Portuguese-speaking markets
In the morning Lord Green opened a business seminar to promote Portugal as a platform to Portuguese-speaking markets, organised by the UKTI team in Portugal. This was attended by 15 UK companies from various sectors (infrastructure, education, oil and gas, ICT, environment, etc) and around 150 representatives from the Portuguese industry, key local organisations and Chambers of Commerce of Portuguese speaking countries. The Lisbon event was a follow up to a successful seminar in London on 26 February which marked the launch of the platform concept.
During the event Lord Green said "With Portugal already a privileged and trusted trade and investment partner of Portuguese speaking countries, UK companies have a real opportunity to develop a platform into these markets by partnering with the Portuguese industry. I am very pleased to see that happening in today's event"
UKTI Business Awards reception
Later in the evening, Lord Green delivered the opening speech at the UKTI Business Awards Reception to Portuguese investors in the UK. This Investment Awards Ceremony is an annual event held at the Ambassador's official residence, to reward and recognise the entrepreneurial effort of Portuguese companies that have chosen the UK as an investment destination in 2012.
Lunch with CEOs of investors in UK
The visit programme included a lunch hosted by Ambassador Jill Gallard with CEOs of large Portuguese companies which are current and potential investors. This was a good opportunity for Lord Green to learn about the various sectors these companies operate in the UK, including energy, financial services and agriculture.
Meetings with Portuguese Ministers
Lord Green met Economy Minister Santos Pereira to follow up on issues of common interest discussed during the Portuguese Minister's visit to London in February, including measures to promote smarter EU regulation and strengthen the Single Market; discussed opportunities for British businesses in privatisation and concession dossiers and better regulation policies with State Secretary Carlos Moedas, in the Prime Minister's office; and met the newly appointed State Secretary for Foreign Affairs and Cooperation, Almeida Leite, to discuss Free Trade Agreements and Growth prospects for the European Union.
Photos: Flickr
Press Coverage
Opinion article in Diário de Notícias
Published 10 May 2013