World news story
Edward Llewellyn becomes Her Majesty's Ambassador to France
Lord Llewellyn of Steep takes up his function as Her Majesty's Ambassador to France after receiving formal diplomatic approval from the French government.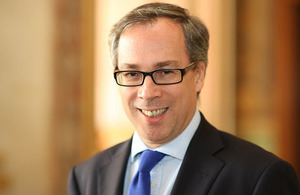 Paris, 9 November 2016
During his first few days at the Embassy, Lord Llewellyn will host two events at the Residence that demonstrate the vitality of Franco-British relations. On 10 November at the British Ambassador's Residence, he is hosting British and French artists and gallery owners participating in the Paris Photo art fair in honour of cross-Channel cultural exchanges. Then, on 16 and 17 November, he will host the participants at the Franco-British Council's annual defence conference including the French and British defence ministers.
He will also participate in several ceremonies highlighting the shared values and solidarity between France and the UK. On 11th November, he will attend ceremonies at the Arc de Triomphe and Notre Dame Cathedral in Paris to mark the anniversary of the Armistice of 1918. On 13th November, he will take part in the ceremony at the Bataclan concert hall to pay tribute to the victims of the November 2015 attacks. On 18th November, he will lay a wreath during the commemoration at the Thiepval Memorial to mark the centenary of the end of the Battle of the Somme in 1916, where more than 600,000 British and French soldiers were injured or killed.
Ed Llewellyn said:
I have a particular attachment to France that goes back many years, both through my family ties and my professional experience which has enabled me to work with the British Embassy in France on many occasions. I am honoured to be returning there today as Ambassador.

Very strong links bind our two countries and the successes that we have achieved together are a testament to our incredibly profound friendship.We built the first supersonic aeroplane and the Channel Tunnel together and today, we are developing combat drones together. We're also building our shared future through trade and ,with some 500,000 British and French expats living in each other's countries, through our human relations. Our nations are inseparable and I am very proud to devote my energy to the next chapter of such a vital friendship.
Published 11 November 2016