Press release
Lord Chancellor welcomes historic promotion of talent for new silks
More female and black and minority ethnic candidates have been appointed Queen's Counsel than ever before.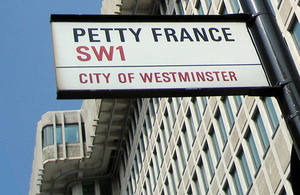 Of the 113 successful applicants appointed Queen's Counsel today (12 January 2017), 31 were women (up from 25 last year), and 16 were of a BAME background (up from 9). In addition, distinguished academics are among the 5 new Honorary Queen's Counsel also appointed today.
The news has been welcomed by the Lord Chancellor, Elizabeth Truss, who is working closely with the legal industry to break down barriers and improve promotion of talent across the board, from law firms to Supreme Court judges.
Lord Chancellor Elizabeth Truss said:
I commend each of the 113 barristers and solicitors, alongside the five Honorary Queen's Counsel, for their appointments.

I want us to tap into all the talents of our society and today's appointments are a step in the right direction. The number of women and BAME candidates applying and being successful is moving in the right direction.

There is more to be done, but my message is clear - when you widen the pool of talent from which lawyers and judges are drawn, you make the justice system stronger.
Today the Judicial Appointments Commission also launches the latest recruitment exercise for High Court judges. The selection process has been changed so the wider merits of all candidates are recognised. For the first time, it opens the door to a wider pool of 'direct-entry candidates' – individuals who while exceptionally talented have not had previous judicial experience.
Notes to editors
The 113 Queen's Counsel (QC) (also known as silks) appointments includes:

31 women applicants of the 56 who applied; last year, 25 of the 48 female applicants were successful
16 applicants who declared an ethnic origin other than white of the 37 who applied; last year, 9 such applicants out of 32 were appointed

QCs are appointed by The Queen, on the advice of the Lord Chancellor. She is in turn advised by an independent Selection Panel which receives and considers each application and makes recommendations as to appointment.
The Lord Chancellor will preside over the appointment ceremony, where the rank will formally be bestowed upon successful applicants, at Westminster Hall on 13 February 2017.
More information on the Judicial Appointments Commission's High Court judges recruitment exercise is available.
For further information, please call the Ministry of Justice press office on 020 3334 4078. Follow us @MoJGovUK.
Honorary Queen's Counsel biographies
Professor John Mitchell Finnis
He is a leading legal philosopher and legal scholar at Oxford University and Notre Dame. Many of his former students have gone on to teach at prestigious universities around the world, or to sit in the higher courts in England & Wales and beyond.
Over his long and distinguished academic career in the law faculties at Oxford and at Notre Dame, Professor Finnis has made a prolific and peerless contribution to legal scholarship.
He is known for his work in the tradition of classical natural law thought, which has transformed the study of jurisprudence across the world. He is also a distinguished authority in other areas of law, particularly constitutional law and medical law, and his work in these areas has been cited by the UK Supreme Court and the Court of Appeal. Professor Finnis has dedicated himself for many years to the service of legal scholarship and legal education and at the very highest level.
Marcia Willis Stewart
She is a well-known civil liberties solicitor who has been at the forefront of public and administrative law for over a decade. She has acted in a number of challenging and important cases including representing the family in the Duggan inquest and leading a team of over 30 lawyers representing 77 of the Hillsborough families. Demonstrating enormous skill and commitment, Marcia has provided exceptional dedication and understated, effective leadership to both her clients and colleagues.
During the Hillsborough Inquests she gave of her time to support and mentor pupils from the local community school, encouraging them to take an interest in the inquests and in the law. A keen champion of diversity, she has created working environments that enable access for lawyers from marginalised communities, who are least likely to be afforded opportunities within much of the profession.
Marcia has a long history of commitment to the voluntary sector, contributing as a trustee to various charities, including Camden Women's Aid (now Solace Women's Aid), where over a decade she held the positions of both Chair and Treasurer. Marcia was named Legal Aid Lawyer Public Law Solicitor of the year in 2015.
Professor Surya Subedi OBE
He is a distinguished academic who has made a major contribution to international law and human rights. He has published extensively in international law and human rights. He served for 5 years between 2010 and 2015 as a member of the Advisory Group on Human Rights to the British Foreign Secretary.
During his tenure as UN Special Rapporteur for human rights he produced 4 substantive reports published by the United Nations focussing on judicial, parliamentary, electoral, and land reform in Cambodia. A number of his recommendations were implemented by the government. Collectively, these 4 reports provided an analytical point of reference for democracy, human rights and the rule of law in the country and became a primary source of reference for human rights defenders, UN agencies, and donor agencies that continue to be drawn on today. The work he carried out as Special Rapporteur was undertaken in addition to his full-time job at his university in England. It is an appointment based on substantive knowledge and integrity of experts serving in their individual capacities.
He was awarded an OBE in 2004 for services to international law, and he has continued to make an exceptional contribution over a sustained period at the international level to develop international law and to advance human rights. He was admitted to the Bar of Nepal in 1981 and called to the Bar of England and Wales in 2007. He currently is Professor of International Law at the University of Leeds and a member of Three Stone Chambers, Lincoln's Inn, London.
Professor Cheryl Thomas
She is an eminent academic and Professor of Judicial Studies at University College London. She is the country's leading expert on juries and judges and pioneered the study of jury decision-making in the criminal courts in England & Wales.
She has undertaken 2 vital studies into juries for the Ministry of Justice. Her first report entitled 'Diversity and Fairness in the Jury System' (2007), was the first study conducted in this country on race and jury decision-making and the first study of the representative nature of jury service in England and Wales for 15 years. Her follow-up study 'Are Juries Fair?' (2010), was the first in the United Kingdom to tackle sensitive and controversial issues about the fairness of jury decision-making and is the most extensive research into the jury system ever conducted in England and Wales.
She is the Director of the UCL Jury Project, Co-Director of the UCL Judicial Institute and has served as a special consultant on judicial affairs to numerous organisations including the Lord Chancellor's Advisory Panel on Judicial Diversity, the Crown Prosecution Service Inspectorate, and the European Commission, the Judicial Studies Board, the Council of Europe, the Scottish Judicial Institute and the former Commission for Judicial Appointments.
Professor Graham Virgo
He is Professor of English Private Law at the University of Cambridge. He is a leading academic who has made a major contribution to English law in the growing area of the law of restitution. He has been foremost amongst the leading academic voices developing the subject, and has shaped the direction of the law of unjust enrichment, mistake and other related areas of restitution.
Part of his extensive contribution has been by means of books, including Principles of the Law of Restitution, academic articles in leading journals and in contributing chapters to books (such as editing the chapter on 'Restitution' in Chitty on Contracts).
He is highly regarded amongst academics, and widely recognised for his significant contribution to the teaching of law. His work is regularly cited in the English courts, including the Supreme Court, as well as other common law jurisdictions.
Published 12 January 2017