News story
Lord Brittan speech: how can the UK lead the completion of the EU's Single Market
Thank you to Business for New Europe for arranging an event on this important topic and in particular for arranging such a distinguished panel…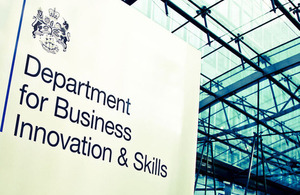 Thank you to Business for New Europe for arranging an event on this important topic and in particular for arranging such a distinguished panel of speakers, all of whom have contributed a great deal to the single market agenda in recent years. Professor Monti's report and the work of Malcolm Harbour's Committee have provided a good foundation to the debate on the relaunch of the Single Market.
The Single Market is perhaps Europe's greatest economic achievement. But there is huge untapped potential which must be realised. Whilst the EU must become more outward-looking, we also need policies which reflect the fact two thirds of trade in the EU is trade between EU countries.
Services now account for 78% percent of Europe's output. Despite the excellent efforts of many people, including Malcolm Harbour, we have only had limited success in introducing proper competition across a vast range of sectors. Many sectors are characterised by disparate regulation. Restrictive rules remain rife. Implementation of what has been agreed falls far short of what is needed.
The consequences are as clear as they are unacceptable. Productivity in services is far below that in the US - by 30 per cent in the retail sector and more than 40 per cent in business services.
I recognise Commissioner Barnier's ambition in setting out such a comprehensive package of measures to address this deficit. However in the current economic context I would urge him and the Commission to be even more ambitious: we need a ruthless focus on making the Single Market work and tackling restrictive practices in particular sectors.
In particular, I believe that there is much more work to do to realise single market benefits for services. Let me give you some examples: Portugal still has rules governing the minimum distance requirements between driving schools; and in Greece, directors of dancing schools need to live within a set distance of the school! Whilst these are slightly flippant examples, many of the restrictive practices which remain apply particularly to important economic sectors, such as construction or accountancy.
Europe adopted a Directive to enable the mutual recognition of professional qualifications in 2005 but many other entry barriers remain, such as fixed tariffs, complex shareholding requirements, onerous capital requirements, and restrictions on the legal form a company should take. To give a couple of examples, Malta, Germany, Greece and Bulgaria still impose fixed tariffs on architects. To offer recruitment services in Italy, an employment agency must have four branches and hold min. capital of 600,000 euros, which serves as a barrier to entry for other service providers with different business models.
We should ask whether Europe should continue to regulate around 4,600 professions across the Single Market or whether more could be done to remove barriers to the cross-border provision of professional and business services to create a more integrated single market.
In addition to services, the UK's response to the Single Market Act will emphasise the need for the single market framework to keep up with developments in the digital and low-carbon economies and help SMEs. We need rules that support ecommerce and new cross-border copyright frameworks for online material. We need a patent system and standardisation framework that can support emerging technologies. And we need to remove unnecessary requirements on the smallest firms.
The UK government will be submitting a response to the Commission in February, and will also be publishing a Trade White Paper which sets this work within a truly global context. I would urge businesses to engage with the Commission and help focus EU efforts on the real barriers to trade.
---
Notes to editors:
---
Lord Brittan was appointed as Trade adviser to the Prime Minister in August last year. He took up his role in September 2010 for a six month period and will be leaving government in March 2011.
Lord Brittan of Spennithorne QC was a MP from 1974 to 1988. He served as Minister of State at the Home Office, Chief Secretary to the Treasury, Home Secretary and Secretary of State for Trade and Industry in Mrs Thatcher's Government. From 1989 to 1999 he was a member of the European Commission, and became Vice President as well as Commissioner responsible for International Trade. Since 2000 he has been Vice Chairman of UBS Investment Bank.
Lord Brittan has taken a six month leave of absence from UBS. As such he stepped down from all his responsibilities to the bank during this period.
BIS' online newsroom contains the latest press notices, speeches, as well as video and images for download. It also features an up to date list of BIS press office contacts. See http://www.bis.gov.uk/newsroom for more information.
Notes to Editors
Contact Information
Name BIS Press Office Job Title
Division COI Phone
Fax
Mobile
Email NDS.BIS@coi.gsi.gov.uk
Name Lucy-Michael Sutton Job Title
Division Department for Business, Innovation and Skills Phone 020 7215 5977 Fax
Mobile
Published 24 January 2011