News story
Lord Brittan hosts South African Deputy President
Deputy President Motlanthe was at the head of a delegation visiting London that included South African government ministers, officials and the…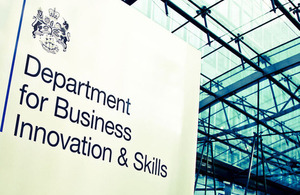 Deputy President Motlanthe was at the head of a delegation visiting London that included South African government ministers, officials and the High Commissioner to the UK, Dr. Zola Skweyiya. Joining Lord Brittan at the networking meeting was a selection of international businesses from the UK, including HSBC, Citibank, Eversheds LLP, Balfour Beatty, International Power and Standard Chartered Bank.
During the meeting, hosted by UK Trade & Investment, Lord Brittan said:
"I am delighted to welcome the Deputy President and his delegation, and to be joined by such a wide selection of UK companies. With bilateral trade standing at around £8 billion per year between our two countries, events like this represent an ideal opportunity for UK businesses to find out more about the opportunities of trade with South Africa.
"We need to support businesses like those here today, by tackling bureaucracy and reducing trade barriers. As trade adviser, my task will be to help contribute to the Trade White Paper, published at the turn of the year by the Government, which will define an overarching trade and investment strategy for the UK."
The meeting with Deputy President Motlanthe rounded off a three-day visit in which the South African delegation was due to meet Deputy Prime Minister Nick Clegg and address the Economist's Emerging Markets summit 2010.
In research published this week by UK Trade & Investment, South Africa was picked as one of the top markets outside the BRICs in which to invest. The survey, conducted by the Economist Intelligence Unit and launched at the Emerging Markets summit, gathered responses from over 500 leading global investors.
---
Notes to editors:
Also attending the lunch were representatives from Aggreko International, Aker Solutions, Alstom Power, AMEC Group Ltd, Cameron McKenna, Energy Industries Council, the Export Credit Guarantee Department, Fluor Ltd, International Hospitals Group, Maxwell Drummond, Mott MacDonald, Scott Wilson, Systech International and Turner and Townsend.

Lord Brittan took up his position as the Government's trade adviser in September for a six month period.

The trade white paper, which Business Secretary Vince Cable will publish, can be expected at the turn of the year.

South Africa is the UK's largest export and import market in Africa. In 2009 South Africa alone accounted for 25% of the UK's total exports of goods and services to Africa and 34% of UK's imports of goods and services from Africa.

Some 600 South African companies are present in the UK (four out of five South African businesses in Europe are based in UK) with ICT, light engineering, creative industries, healthcare, financial services and consultancy being the most prominent sectors.

A recent European University Institute survey of over 500 global executives ranked South Africa in fourth place as a key emerging business market (excluding BRICs) - up from 8th place in 2008.

BIS' online newsroom contains the latest press notices, speeches, as well as video and images for download. It also features an up to date list of BIS press office contacts. See http://www.bis.gov.uk/newsroom for more information.
Notes to Editors
Contact Information
Name BIS Press Office Job Title
Division COI Phone
Fax
Mobile
Email NDS.BIS@coi.gsi.gov.uk
Name Henry Tanner Job Title
Division Department for Business, Innovation and Skills Phone 020 7215 5947 Fax
Mobile
Published 16 September 2010