Lord Bishop Rt. Revd. Mike Hill visits Guatemala
The Lord Bishop of Bristol, Rt. Revd. Mike Hill, visited Guatemala from 21 to 23 May.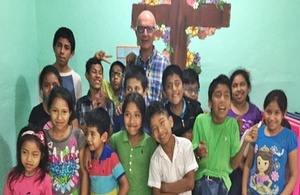 He visited the country to find out more about the charitable projects of organisations working with children at risk and which have received the support of the Anglican Church.
Lord Bishop Hill visited the UK's Street Kids Direct Foundation which is working with the Guatemalan organisation Mi Arca in helping children at risk in Zone 4 of the capital. Both institutions are led in Guatemala by its founder and Director, Duncan Dyason.
Lord Bishop Hill was instrumental in the first days of Street Kids Direct when its Director arrived in Guatemala in 1992. Lord Bishop Hill has spoken across England about the challenges children at risk face in Guatemala and the Anglican Church's response to support them and to find solutions aimed at deploying a protection network.
The Rt. Revd. Mike Hill was appointed an Elder Bishop of the Anglican Church in 2003 and became a member of the House of Lords, the upper house of the United Kingdom Parliament, in 2009. Lord Bishop Hill visited Guatemala on behalf of the Church of England.
Whilst in Guatemala, Lord Bishop Hill visited Mi Arca and its centre for children at high risk within Guatemala City's "La Terminal" market in Zone 4, and spoke with the beneficiaries and social workers. Mi Arca has also received funds from the British Embassy, and last year a special donation was used to develop a mentoring programme aimed at helping children overcoming violent traumas.
Published 23 May 2017