Lord Bates completes 3000 mile walk in support of Olympic Truce
Today, Lord Bates will walk into Westminster, after taking nearly six and a half million steps in a 3000 mile walk across Europe to raise awareness of the UN resolution on the Olympic Truce.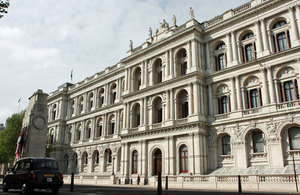 The UK sponsored the UN resolution on the Olympic Truce which passed in October 2011 with a record breaking co-sponsorship by all 193 UN Member States. The resolution asks Member States to promote the ideals of the Olympic Truce and the UK is the first Olympic Games host to use domestic and overseas activities to support the Truce.
Lord Bates' passionate belief in the Olympic Truce has taken him on a fascinating journey, and many of the FCO's Embassies have welcomed him along the way. They helped arrange meetings for him with government ministers; His Holiness Pope Benedict XVI; UN Secretary-General Ban Ki-moon; members of national Olympic Committees; and the International Olympic Committee President, Jacques Rogge.
Minister Henry Bellingham, the Minister responsible for Conflict Resolution at the FCO said:
"I would like to congratulate Lord Bates on the extraordinary achievement of walking from Olympia in Greece to London to highlight the UN resolution on the Olympic Truce. It has been an epic journey. The FCO agrees that the Truce is a very important way of promoting conflict resolution across the world and we are working on everything from the promotion of children's rights in Ecuador to using sport to reduce gang violence in the Caribbean to achieve this."
Lord Bates said:
"The Olympic truce provides an opportunity to remember that the point of the Ancient Olympic Games was the truce that transcended the sport. In the modern era much of that Ancient ideal has been lost, but the truce remains. I am proud that the British government is taking the lead to ensure that for London 2012 the truce is restored to its true position."
Seb Coe, Chair of the London 2012 Organising Committee, said:
"Michael's campaign to promote the Olympic Truce has been inspirational both in the House of Lords, and to all of us at the London 2012 Organising Committee. The Olympic and Paralympic Games are truly global events, with athletes from over 200 nations who will be pushing beyond their personal best when they are here in London. Michael has gone on a similar journey, and as we join him today at the Olympic Park we wish him well for the final leg of his impressive 3,000-mile effort.''
The Government is committed to preventing conflict and, in support of our Building Stability Overseas Strategy, we fund a wide range of conflict prevention projects in some of the most conflict affected countries in the world.
Published 15 February 2012