News story
Lord Ahmad meets Crossrail apprentices at Hillingdon business
Transport minister visits a specialist manufacturing company in London helping to construct Crossrail stations.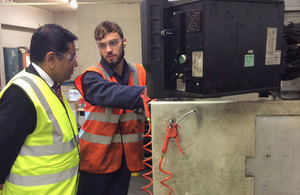 Transport Minister Lord Ahmad met young apprentices working on the Crossrail project today (17 July 2015) to see how the government's record investment in the rail network is creating jobs and business opportunities across the UK's supply chain.
The minister visited Lee Warren Fabrication and Design Ltd in Hayes, Hillingdon, a family-run small and medium enterprise (SME) contracted to design, manufacture and install platform screens at the Bond Street Crossrail station.
The supply chain for Crossrail, Europe's largest engineering project, will create at least 75,000 business opportunities and support the equivalent of 55,000 full time jobs across the country. Over half of the suppliers are SMEs like Lee Warren.
Lord Ahmad toured the workshop floor and viewed a full size mock-up of the Bond Street platform edge screen, before meeting some of the company's current and former apprentices. The company's contract with Crossrail has supported over 50 jobs and seven apprenticeships for local workers and young people.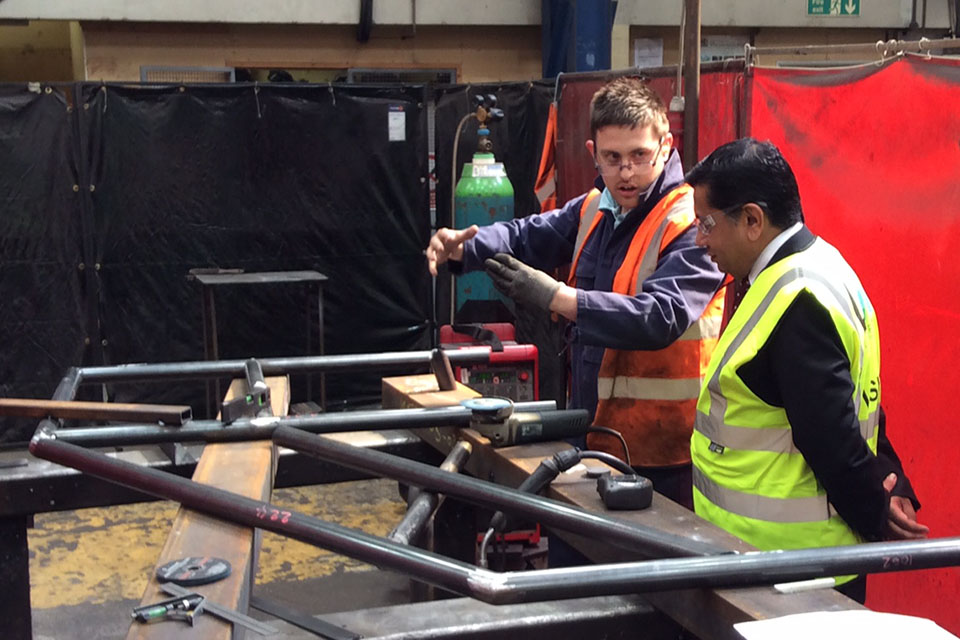 Lord Ahmad of Wimbledon said:
The success of Lee Warren's team is a great example of how our investment in Crossrail is generating new opportunities, boosting business and supporting young people. Across the country, Crossrail has already created 460 apprenticeships, forging careers and building a lasting skills legacy for the next generation of projects. It is important to invest in training now so that we are able to meet the exciting challenges of the future.
Following the completion of tunnelling in June, Crossrail has now moved into the next phase including the fit-out of stations, tunnels and platforms to make the line operational.
Crossrail will transform rail travel across London and beyond when full services begin in 2019. It will increase the capacity of the capital's transport network and support economic growth, with 200 million passengers expected to use the service every year.
Rail media enquiries
Media enquiries 020 7944 3021
Out of hours media enquiries 020 7944 4292
Switchboard 0300 330 3000
Published 17 July 2015