Looking forward to celebrating Ramadan at the London 2012 Games
In an FCO film launched today, Director of Regent's Park Mosque Dr Ahmed Al-Dubayan and LOCOG Head of Multi-Faith Chaplaincy Rev Duncan Green discuss the facilities being offered to those observing Ramadan during the London 2012 Games.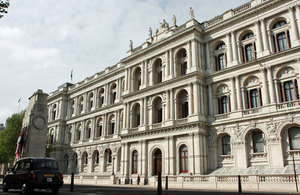 The film is designed to raise awareness of the facilities available for athletes and spectators wishing to meet their faith obligations during the London Games. The film is being released to coincide with the start of Ramadan.
In the film, Dr Al-Dubayan talks about how the Muslim community at Regent's Park Mosque in London is preparing for Ramadan and looking forward to sharing its Iftar programme with those visiting for the Games. Duncan Green explains how the London Organising Committee of the Olympic Games has consulted faith communities to ensure that the relevant facilities are in place to allow athletes and spectators to meet their religious obligations at this time.
Published 20 July 2012