Looking ahead to the Arms Trade Treaty Negotiating Conference in 2012
Foreign Office Minister Alistair Burt explains why securing a robust and effective, legally binding, global Armd Trade Treaty is a priority for the UK.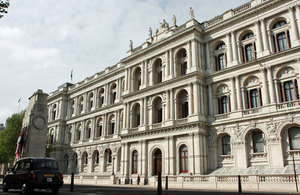 "Securing a robust and effective, legally binding, global Arms Trade Treaty (ATT) is a priority for the UK, and I welcome progress made so far in advance of next year's Negotiating Conference.
At UN General Assembly First Committee this week, Ambassador Roberto Moritan of Argentina, the Chair of the UN process on an ATT, reported on the progress that has been made towards a Treaty.
The crucial ATT Negotiating Conference will take place in New York in July 2012. This is the culmination of two years of preparatory work in the UN, following the UK co-authored UN resolution in 2009. Ambassador Moritan noted the substantial progress that has been made in that time, with the process characterised by the positive and constructive engagement of UN Member States.
The Preparatory Committee meeting in July 2011 highlighted the continuing will of the international community to secure an ATT; with the joint P5 statement also sending a strong message of support for the UN process.
I highlighted in my statement in July, the potential benefits of a robust Treaty, and we continue to work with our international partners to secure an ATT that effectively regulates the international trade in conventional arms; helping to reduce conflict and ensure a respect for human rights.
Securing a robust and effective, legally binding, global ATT is a priority for the UK and, as we approach the Negotiating Conference next year, we will continue to play a leading role in efforts to achieve that goal."
Published 21 October 2011