Looking ahead to 2012: Foreign Secretary's New Year message
Foreign Secretary William Hague has described 2011 as an extraordinary year, and said that 2012 may turn out to be just as challenging.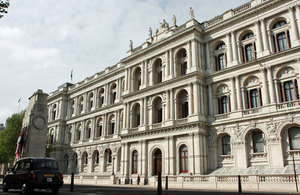 In his New Year message the Foreign Secretary said that the UK will continue to do everything it can to:
advance human rights, freedom, opportunity and democracy
maintain international peace and security
advance the prosperity of our own people and the rest of the world
Saying that he was proud of what the UK has achieved in 2011, the Foreign Secretary talked about Libya, where the UK along with many other countries acted to save lives, the work in Sudan to create peace, where the Foreign Secretary attended the independence of South Sudan. He also highlighted the London Conference on Cyberspace which was attended by more than sixty countries.
He said that amidst all the challenges and difficulties in 2012 there will also be a lot to celebrate, such as the Diamond Jubilee of Her Majesty the Queen and the London 2012 Olympic Games.
Published 22 December 2011